Shure Headset Microphones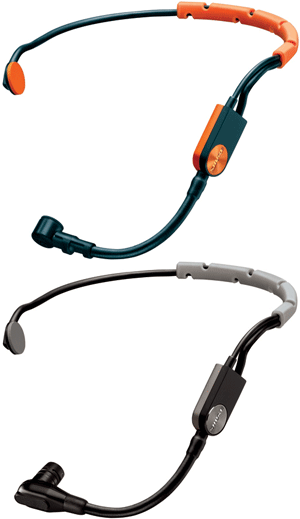 Shure builds on their SM microphone line with two new headset microphones: the SM31FH Fitness Headset Condenser Microphone for fitness instructors and the SM35 Performance Headset Condenser Microphone for live sound applications. Both these headset microphones have condenser capsules for accurate pickup of every nuance of vocalists--just like any of Shure's free standing stage condenser microphones.
The orange colored SM31FH (shown top at the right) comes as a wearable, cardioid condenser microphone that features hydrophobic fabric, a material that repels moisture to protect and shield the microphone cartridge from corrosion caused by sweat.
With a lightweight construction, secure fit, and low-profile form factor, the microphone is built to provide crystal-clear audio, even through extended hours of continuous use in fitness studios and gymnasiums.
The SM35 Performance Headset Microphone come in a stealthy gray color and offers multi-instrumentalists full hands-free freedom without having to sacrifice sound quality--singers are never off mic! Constructed to provide a secure and comfortable fit, the SM35 is appropriate for any stage--from small clubs to large arena tours.
Both the SM35 and SM31H sell for $99 MAP each and are offered for use with the BLX Wireless System, GLX-D Digital Wireless System, and ULX-D® Digital Wireless System (SM35 only).
Check:
---
Web Page design is copyright © 2014 by Barry Rudolph