Sound Tools 1/4-inch TRS/TS Cable Tester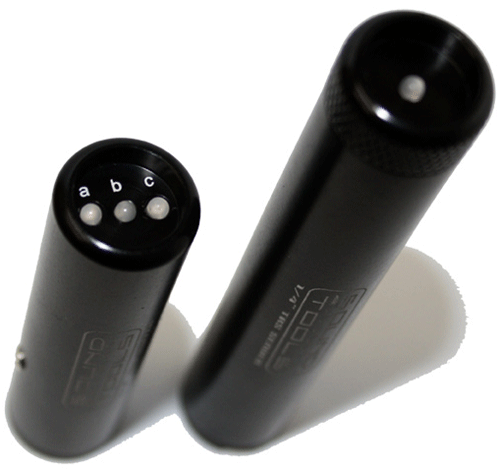 The Sound Tools 1/4-inch TRS/TS system is a two-piece system: the battery powered Sender unit and the Receiver or 'Sniffer' unit.
Like all the Sound Tools cable testers, the 1/4-inch TRS/TS Sniffer/Sender pair are both made of lightweight aluminum with the longer Sender unit sporting a standard female 1/4-inch jack; it attaches to the end of any TRS--Tip-Ring-Sleeve balanced or stereo cable or a TS--Tip-Sleeve instrument or guitar cord. The Sender is powered by an internal 12-volt battery as used in most key chain car alarm remotes and is readily available.
When the Sender is connected to one end of a suspected cable it automatically turns on--as indicated by a green LED, the Sniffer is then connected to the other end of the cable and instantly reads its condition using combinations of three LEDs labeled A, B, and C. There are two small, stick-on decoder cards--one for TRS cables and the other for TS cable that comes with the Sniffer to decode the many possible problems with any cable as displayed by the three LEDs. The simple readout will indicate shorted and open wires and crossed pairs. Three green LEDs means the cable is fine. I stuck the decoder cards on the side of the Sniffer and Sender units.
Intermittent 1/4-inch guitar cords are usually the fault of the connectors--bad soldering or just broken. But sometimes the cable is damaged internally with no externally visible signs of mayhem. My 1/4-inch TRS/TS Sound Tools Cable Tester quickly found a dodgy open "T" connection somewhere within the cable itself whenever the guitarist moved it around on stage. Awesome!
Sound Tools XLR Sniffer/Sender Cable Tester sells for $45 and makes a very handy device for packing in your gig bag. Contact Rat Sound Systems at 888-545-8271 or visit www.soundtools.com.
---
Web Page design is copyright © 2014 by Barry Rudolph