Tech 21 Hot-Rod Plexi Pedal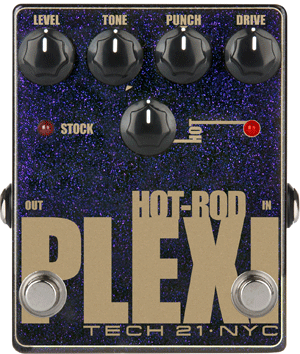 The Hot-Rod Plexi pedal from Tech 21 is the same as reviewed last year in these pages but it's now available from all retailers. It celebrates with a new purple sparkle finish and has the same two modes: Stock mode emulates a stock '68 Plexi and Hot mode adds the sound of an extra 12AX7 tube gain stage for up to 28dB of boost. With the Hot-Rod Plexi, you can completely change the personality of a clean amp or use it as an instant mod to a dirty amp.
The Tone control cuts the high end without losing mids or getting muddy and Drive adjusts the overall amount of gain and overdrive. The new Punch (formerly Thump on the previous version) control is a wide-band mid-range EQ control that gradually changes its bandwidth with the amount of cut or boost.
Other features include a high-impedance input, a low-impedance output for driving longer lines to your amp, and a custom, silent-switching footswitch.
The Tech 21 Hot-Rod Plexi Pedal sells for the same $215 MSRP. Check: www.tech21nyc.com.
---
Web Page design is copyright © 2014 by Barry Rudolph