Western Digital My Cloud EX4 Personal Cloud Storage System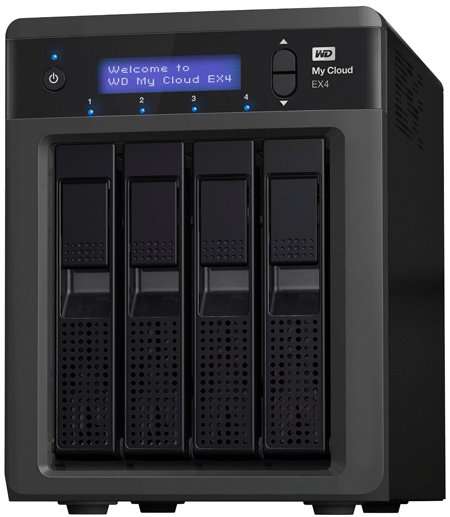 Western Digital's My Cloud EX4 is a personal cloud storage system that connects directly to your wireless router, giving you direct access to its content using any computer, tablet or smartphone with Internet access. As a high-performance Network Attached Storage device (NAS) with four drive bays, you'll have shared storage on your home network and be able to remotely access content using the WD My Cloud EX4 app or any Web browser. My Cloud makes a "peer-to-peer" connection so communication between mobile device and drive is direct.
Enclosed in an all-metal cabinet, the EX4 I received for review has four, hot swappable drive bays each fitted with a 2TB WD Red™ hard drive setup in a RAID 5. You can buy it with just two drives and add later and you can choose RAID 0,1,5, 10 or select spanning and JBOD modes using the Dashboard and any Web browser. Having the ability to hold up to 16 TB of storage space, you're not likely to run out of space soon but if you do you can add more by connecting a USB 3.0 drive to one of the unit's two rear USB ports.
Using the Dashboard GUI, I updated to the new firmware (two updates) and started uploading files. The Dashboard manages and monitors the operation of the drives in the EX4 plus there is a LCD display to give you a "heads up" overview as well.
My EX4 is positioned in my office near my WiFi router and away from the studio so I got busy and configured a power on/off energy saving schedule so My Cloud was always turned on and available at the times/days I would use it--basically studio hours. I uploaded my entire sample collection--some 800GB of folders of drum samples, loops, and sound effects. I also archived my Web site and set up a Time Machine backup schedule during off hours for two computers.
I found very useful the ability to upload and download Pro Tools files quickly as archival and/or as backup at the end of a session. While at school teaching as I need them for my students, it has become my routine to upload/download files from the My Cloud EX4 system located back at my studio. Up/download speeds are about the same I've experience with other cloud-based systems such as Dropbox or SoundCloud.
I like that I can add users with access to their own folders, set up sharing on a single storage device and configure remote access using my iPhone or iPad. I can also include administration access on an extra device for a limited time period of 48-hours.
The WD My Cloud EX4 is proving to be very useful in the studio as periodic backup and for streaming music and video files to my clients when working here at my studio. Once they download the free smartphone app and I set them up, I can push .mp3 or .wav mixes to their phones or laptops nearly instantly. I can audition other mix versions, samples I might use, other songs from my iTunes folder, or view images and Word documents also stored on the My Cloud EX4.
In addition to being part of my studio process, the My Cloud EX4 will share files with either PCs or Mac, stream media to your Digital Living Network Alliance®-enabled TV, and it comes with a 2-year warranty and a concierge tech support phone number to get you all setup.
As tested, the My Cloud EX4 with four 2TB drives (8TB total) sells for $749 MSRP. My Cloud EX4 also comes 16TB, 12TB and 0TB models. The 0TB diskless model allows for expansion as you need more storage starting with just one drive.
For much more about it, check out: wdc.com/en/products/products.aspx?id=1170.
---
Web Page design is copyright © 2014 by Barry Rudolph