Apogee Electronics Groove Portable Headphone Amplifier/DAC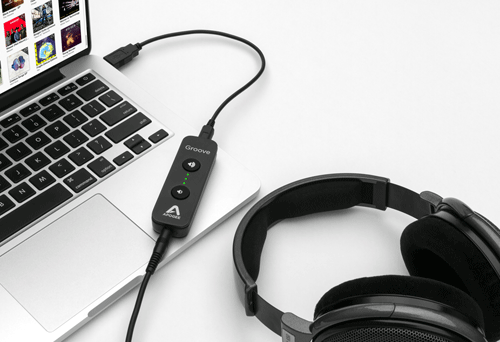 Apogee Electronics Groove Portable Headphone Amplifier/DAC

For use with Mac and Windows computers, Groove is a portable headphone amplifier module with a built-in ESS Sabre digital-to-analog converter (DAC). It replaces the lower quality headphone amps and DACs typically built into laptop or desktop computers. With Groove, Apogee applies their advanced music recording technology so that you can hear, at a master quality level, the full fidelity of digital music files in your iTunes® folder or while live streaming or audio playing out of your DAW system.

Apogee Electronics Groove

Easily held in your hand or carried in your pocket, Groove is a little larger than a USB thumb drive and comes with a short USB cable to connect it to your computer. It connects "in-line" between your phones and your computer's USB socket and has a rubberized base to keep it stabilized when placed on your desktop. It has a 1/8-inch mini stereo TRS output jack that will accept ear buds, full size studio headphones, or direct connection to your powered monitors.

The controls are simple. It has proper-sized up/down volume buttons that are easy to adjust. Groove is powered via the USB 2.0 connection and is class-compliant for MACs; Groove shows up in the MAC's Sound Preference panel ready to be selected. For PC use on computers manufactured after Jan. 2006, simple download and install the driver available at: Apogeedigital.com/register.

I have been mixing a Pop song in my Pro Tools studio so I was extremely familiar with its mix and overall sound. I connected Groove and plugged in my set of Shure SRH840 headphones. These are the same set I use to check mixes using a studio headphone amp. I found useful the three green and blue LEDs to indicate audio present and when you change the audio volume up or down.

The sound is marvelous--the best I've heard yet from portable headphone/DACs I've used in the past. It sounds like the mix playing directly out of Pro Tools--clear high frequencies and accurate and distinct bass. Groove uses a Constant Current Drive™ headphone amp circuit to provide a smooth frequency response when used with any set of headphones. There was no problem driving (louder than I can take) the 40-mm drivers in the SRH840s with their 44-ohm impedance.

Another tech detail is the Quad Sum DAC™ that uses 4 DACs per channel (8 total) for the highest dynamic range and lowest distortion. Groove works at 24-bit and up to 192kHz sample rates so I can quickly listen to master audio files without conversion.

If you use a laptop for "on the go" music production, you should hear how your mixes now sound--better than your computer's DAC and headphone amp. You'll like its small size and it makes a great playback system for mobile FLAC file collectors or if you are subscribing to HD music streaming services such as HD Tracks or Tidal®.

Groove sells for $295 MSRP and for more, check www.apogeedigital.com.








---
Web Page design is copyright © 2015 by Barry Rudolph