Audient iD 14 USB 2.0 Audio Interface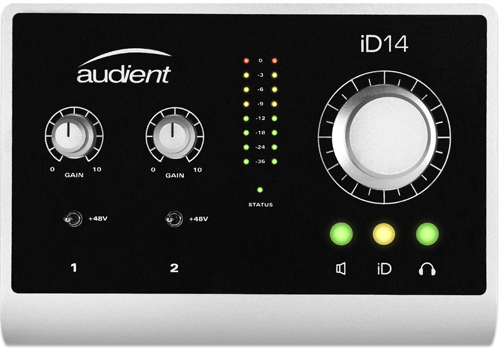 Audient iD 14 USB 2.0 Audio Interface

Audient's iD 14 Interface gets off to a great start with two channels of Audient's classic console mic pre-amps from their ASP8024 console--these pre-amp circuits are used everywhere in their products and, having review their top-of-line Zen Console that's loaded with them, I'm well acquainted with their top-notch quality.

Enclosed in an all-metal case, the compact and stylish (it matches my aluminum MAC Tower) iD14 is a USB 2.0 class-compliant interface. It uses Burr-Brown AD/DA converters, has an independent Class-AB headphone output with front panel jack, and a high-impedance JFET direct instrument input also mounted right up front for instant access.

The iD14 has up to 10 inputs using the 2-analog mic/line inputs coming in on two Neutrik Combo jacks on the rear panel. There is also a TOSLINK jack for eight, additional ADAT inputs or stereo S/PDIF inputs. It has four analog outputs that are assignable within the included iD App; the App is free, downloadable and runs in either MACs or PCs.

Know that the additional digital inputs make possible up to 10 microphone sources available by digitally connecting an external eight-channel mic pre-amp such as the Audient ASP800.

With the iD14 App, Audient introduces ScrollControl. When selected, this clever system changes the iD14's volume control into an up/down scrolling wheel for your DAW host system as well as a controller for plug-in parameters. In Pro Tools 12 HD, whatever parameter control the mouse pointer hovers over, the iD knob will control that parameter.

The iD button itself on the iD14 is also programmable to act as: a talkback button (super handy), switching to mono or mono with reversed polarity, or monitor level dim.

After downloading the iD App and doing the update I was ready to use the iD14 with my current Pro Tools session. It comes with a power supply that is only required for +48-volt phantom powered microphones; otherwise it is fully powered with the USB 2.0 connection.

Analog mic or line inputs 1 and 2 go directly to Pro Tools I/O 1&2 automatically and also show up in the mixer for low latency monitoring. I found the mic pres to sound great--quiet, clean and without distortion. There is up to 56dB of gain, 2.8k-ohm input impedance, and the iD App allows for polarity flip and a +10dB input gain boost.

The iD14 shows up in the Pro Tools I/O like any other multi-channel USB interface and the iD14 mixer window/software need only run if you are changing configurations--routing different sources or reconfiguring the iD button. The unit's four outputs appear on the iD mixer as well and could be used as stereo mixing stems or studio headphone feeds.

The Audient iD14 sells for $299 and is a solid interface that's expandable to keep pace with your future studio needs. For more information, visit www.audient.com.








---
Web Page design is copyright © 2015 by Barry Rudolph