Audio-Technica AT5045P Stereo Condenser Microphones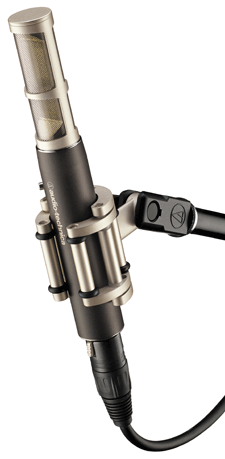 -- Audio-Technica AT5045----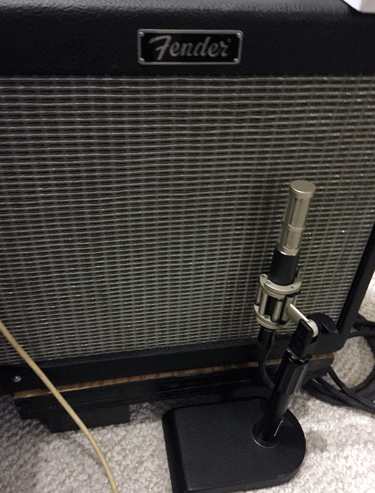 -- Audio-Technica AT5045 On Guitar Amp----

The hand-built AT5045 side-address cardioid condenser is the latest addition to A-T's 50 Series. With its large, rectangular electret capsule set in a rugged housing of aluminum and brass, the AT5045 is available separately or in stereo pairs badged AT5045P.

The Audio-Technica AT5045 uses a two-micron thick, vapor-deposited gold diaphragm that is pre-aged to ensure the mic's sonic characteristics are fixed and constant over time.

As a close instrument microphone, the AT5045 has the ability to handle sound pressure levels up to 149 dB SPL with a specified dynamic range of 141dB. The mic's high SPL handling is aided by the internal shock mount that decouples the microphone's case from the capsule plus the included AT8481 isolation clamp insulates the microphone from external vibrations traveling up the stand.

The AT8481 allows the precise positioning of the microphone exactly where you want it with the locking mechanism keeping it securely in place and tilted in any angle you choose--a reassuring feature when hanging these mics over a drum kit or an orchestra string section. This excellent cam-operated isolation clamp gently but firmly holds and protects the microphone. The AT8481 is a slimmed down version of the isolation clamp used on the larger AT5040 microphone.

One of my first tests was using a single AT5045 to mike a Fender Blues Junior amp (pictured). I've been looking for a condenser microphone for close in to guitar amps--one that can take level and not distort. I positioned it off-center to the amp's twelve-inch speaker and found aiming it straight in worked best. Aiming directly at the dust cover was too bright yet the mic didn't distort--it just captured the nastiness of that part of the speaker.

Next I tried both AT5045 mics in the AT5045P kit. I set up a coincident X-Y stereo pair to record an inexpensive ESP steel string acoustic guitar (pictured). I used only the pre-amps of the studio's Rupert Neve Designs 5088 console and about 40 dB of gain. I loved how accurately I could set the two capsules' angles. The capsules are inline and on the same plane as the metal ribs on either side of the frame for the body's screening. I had them about 10 to 12-inches from guitar's sound hole.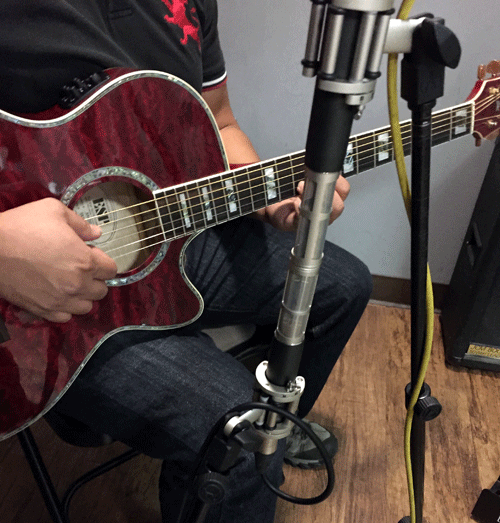 -- Audio-Technica AT5045 X-Y Stereo Acoustic Guitar----

The sound was present and clear without being too bright or excessively boomy. I recorded without EQ and compression and post recording, I could take the sound in any direction easily--there was plenty to work with! The stereo image width was modest and stable and, like any properly recorded phase-coherent X-Y recording, completely mono compatible.

The AT5045s are perfect for drum overheads, percussion, acoustic guitar, and string instruments. For all sources, from whisper quiet location/ambient recordings to wall shaking rock bands, the AT5045 will accurately capture all transients in high resolution.

With the AT8481 isolation clamp, and AT8165 windscreen and custom hard-shell carrying case, the AT5045 sells for $1,399 MSRP. The AT5045P stereo pair is $2,499 MSRP.

Much more at:
www.audio-technica.com/cms/wired_mics/fba62d0246d216b3/








---
Web Page design is copyright © 2015 by Barry Rudolph