Audio-Technica ATH-M70x Headphones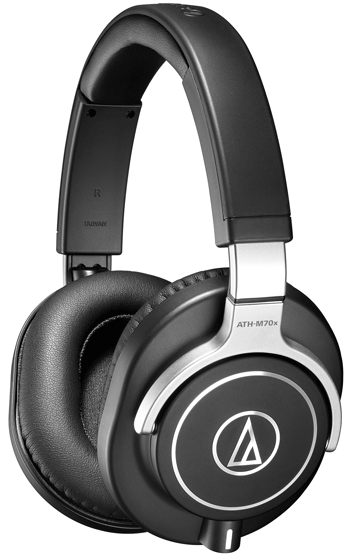 -- Audio-Technica ATH-M70x Headphones

The new ATH-M70x headphones, along with the open-back ATH-R70x, are the most stylish headphones yet in the ATH line. For studio work and good isolation from outside sounds, the ATH-M70x has a circumaural design with 90° swiveling ear cups that fold flat in the included compact soft case. They come with three interchangeable cables that screw-lock into the headphone's left ear cup: a 1.2 m to 3.0 m coil cord, and a 3.0 m cable work with an included 1/4-inch stereo adapter and a shorter 1.2 m straight cord for direct connection to your portable device.

Notably the ATH-M70x are very light feeling on my head yet stay put and seal well around my ears even though I wear glasses. I now mix on them whenever I want to listen on 'phones during late night mixing sessions when loud monitor speakers are verboten!

The ATH-M70x professional monitor headphones feature proprietary 45-mm large-aperture drivers with neodymium magnets and copper-clad aluminum wire voice coils and reproduce 5 Hz to 40,000 Hz effortlessly. But unlike other headphones, they do not sound purposely over bright and fizzy and they can take up to 2-watts of power from my studio's headphone system! My drummers (who want it louder than loud) will love them! And it is good to know that the professional-grade ear pads and headband are extra durable, and detach for easy cleaning or replacement.

A great choice for studio mixing and tracking, FOH, DJ use, personal listening, mastering, and post-production, the Audio-Technica ATH-M70x sells for $299 street price.

Check: www.audio-technica.com/cgi-bin/map_set_lang.pl?redir=/cms/headphones/37a47d8ea9cf0796/index.html.








---
Web Page design is copyright © 2015 by Barry Rudolph