Audio-Technica BP40 Large-Diaphragm Dynamic Microphone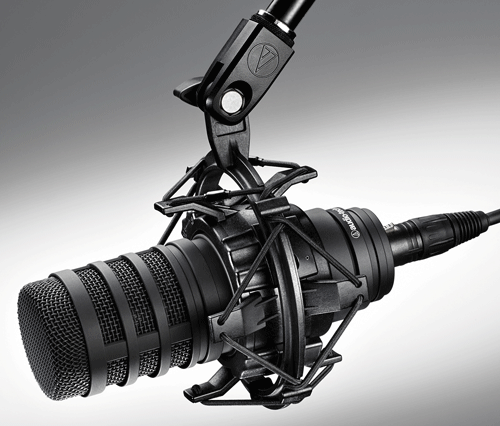 Audio-Technica BP40 Microphone with optional AT8484 Shock Mount

The BP40 is a large-diaphragm broadcast microphone that uses a patented floating-edge dynamic element for a rich, clear and natural vocal sound for radio, overdubs, post-production, podcasting and more. The mic's hyper cardioid polar pattern provides isolation for the desired sound source and maximum off-axis rejection of room tone and extraneous environmental noises. Frequency response is rated at 50-16,000 Hz.

The BP40 has an internal multi-stage windscreen to minimize wind and plosives (p-pops) from close vocals and the proximity effect is further reduced by using the switchable, 6dB/octave 100 Hz high-pass filter. The mic's all-metal 632 gram heft is built for radio/TV broadcast studios with a hum-bucking voice coil designed to prevent interference from video monitors, AC power lines, and electromagnetic interference (EMI) from nearby radio frequency sources.

The BP40 comes standard with the AT8483 mounting clamp and the optional AT8484 shock mount is available separately. The BP40 sells for $349 MAP. The optional AT8484 shock mount is $99 MAP. For more information, please visit www.audio-technica.com.








---
Web Page design is copyright © 2015 by Barry Rudolph