The Hoser XT EQ Plug-in from Boz Digital Labs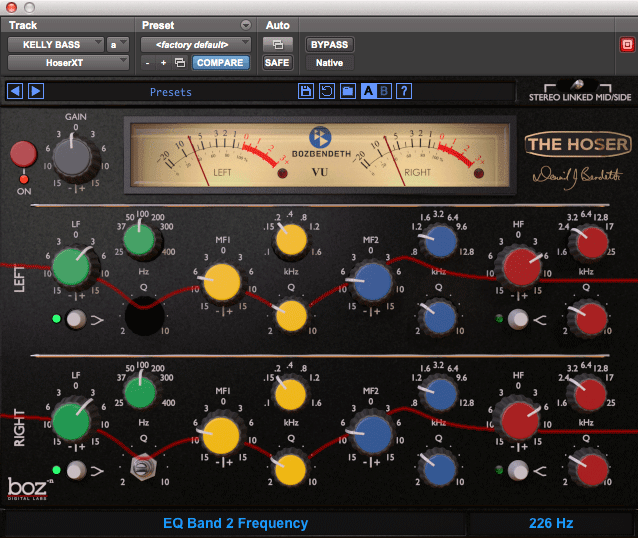 -- The Hoser XT EQ Plug-in from Boz Digital Labs----

Engineer/producer David Bendeth and Boz Digital Labs follows the +10DB Channel Strip plug-in with The Hoser XT stereo equalizer plug-in. Named after a Canadian console, The Hoser XT is a four-band parametric design with overlapping frequency bands and the ability to switch the low and high frequency sections to shelving EQs. Each of the four sections has up to +/- 15dB of boost/cut available and the variable Q ranges are from a musical and broad Q of 2 to a sharp and surgical Q of 10.

The low frequency section operates from 25 to 400Hz; the low mid-range section ranges from 100Hz to 1.6kHz; the high mid-range section runs from 800Hz to 12.8kHz; while the high frequency section goes from 1.6kHz to 25kHz.

Hoser XT also has a Mid/Side mode where the left and right channels become separate mono EQs for the Mid and Side components of stereo sound. The plug-in changes to a silver front panel and does the conversion of stereo sound into separate Mid and Side signals and then the conversion back to conventional stereo at its output. Mid/Side equalization expands the utility of this super-low latency and minimal CPU stereo EQ. I find M/S processing effective for mastering applications and increasing the stereo width of narrow synth patches. However with this early version without separate level controls for the left/right channels or Mid/Side signals, there is no way to alter stereo width without applying a specific EQ to the Mid or Side signals.

Besides M/S operation, The Hoser XT operates with channels either stereo-linked (called Linked) or dual mono (called Stereo). In stereo linked, adjusting the controls of ether channel changes the same parameters on the other. For mono channels there is no specific mono version of the EQ--so if you happen to convert that mono track to a two-channel track via an inserted stereo effect before or after Hoser XT, the EQ is already to go.

I received Hoser XT ver 0.9.3 and used it on drums, bass, guitars, program mixes, and vocals--basically everything in the song. It inserts instantly and uses around 1% or less CPU per instance. I would put it in the "smooth category" with an especially sweet high frequency section. I liked adding "air" with this section but I do wish the four sections had individual bypass buttons. So I got use to just Option + Click the boost/cut controls of a particular section. It's easy to get back to a setting by first mousing-over a knob and looking at the bottom of the GUI for a digital readout of the knob/parameter's name and setting. There is also an A/B snapshot feature that retains whatever the settings are whilst in one of those snapshots.

Other cool things: by clicking on "The Hoser" name a red line graph representing the algebraic sum of all four sections appears drawn over the width of the front panel--two separate red lines if you are using it dual mono or in M/S mode. I also like the compact size of The Hoser XT GUI that includes its own preset naming/saving/recalling management system that allows sharing of settings across different DAW systems on your computer.

A good little solid-working EQ that won't break the bank or your CPU, The Hoser XT sounds great and sells for $99 MSRP--intro price right now is $89. For more about it and download it, check out: www.bozdigitallabs.com/product/the-hoser-xt/.








---
Web Page design is copyright © 2015 by Barry Rudolph