CAD Audio GXL2600USB Condenser Microphone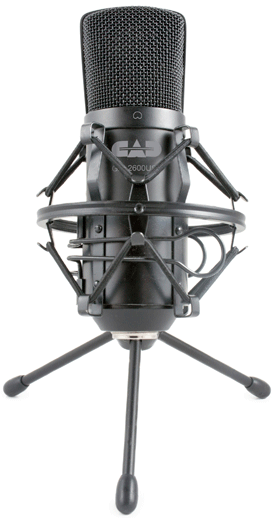 CAD Audio GXL2600USB Condenser Microphone

CAD Audio's GXL2600USB is the latest addition to their popular line of USB microphones. It is a large diaphragm studio condenser microphone with one of their 1-inch diameter Aoedein™ permanently polarized capsules. The cardioid patterned (only) GXL2600USB works and performs exactly like an XLR cabled studio condenser with the same large sound image and pickup of detail you'd expect from a studio microphone.

CAD Audio has their PureTone™ analog-to-digital (A-to-D) converter encased within the mic's body that gives the mic a -35dB sensitivity and less than 15dB (A-weighted) equivalent noise level. That's a better spec than many very expensive studio condensers--new and vintage.

I plugged the GXL2600USB into my computer's USB 2.0 jack and also used an Apogee Groove headphone amplifier/DAC for monitoring on my Shure SRH940 headphones. I launched Audacity 2.1 to record a narration piece for one of my classes. I later imported that file into Pro Tools 12 for editing. The GXL2600USB comes with a long USB cable, leatherette travel pouch, shock-mount basket and tripod desk stand--all perfect accessories for this application.

As class-compliant devices in MAC OS, both the GXL2600USB mic and Groove showed up in Audacity as Input and Output devices and I found there was plenty of mic level available from the GXL. I used a pop filter just like any studio condenser to suppress p-pops when speaking close into the mic. My voice sounded fat and distortion-free--the GXL2600USB is capable of 135 dB max SPL and has a 20Hz to 20 kHz frequency range.

The GXL2600USB is both Windows 8 and Mac compatible and makes a great desktop addition for Skype audio or on the road for USB-based home studio vocals, Podcasts, interviews, oral histories and diaries. It sets up easily and works flawlessly.

The GXL2600USB sells for $169 MSRP and for more information, check: www.cadaudio.com.








---
Web Page design is copyright © 2015 by Barry Rudolph