Casio's Four New Celviano and Privia Digital Pianos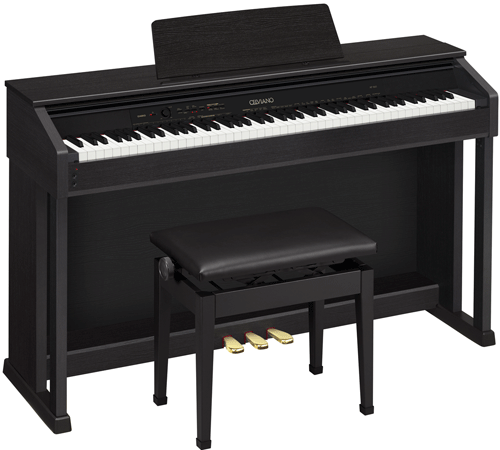 Casio Celviano Digital Piano

Casio's Celviano AP-260 and AP-460, as well as the Privia PX-760 and PX-860 are equipped with new modes and features like a Hall Simulator with presets like the Dutch Reformed Church, Berlin Hall Philharmonic, and the French Cathedral in Berlin that put you right there in any of those places.

Concert Play allows musicians to play along to 10 different classical pieces--a kind of "Music Minus One" where you can select to hear them with or without the piano part. The lesson feature allows you to practice a piece at a slower tempo until you are ready to play it at normal tempo along with the orchestra. The 10 pieces are appropriate for beginning to advanced players.

New stereo string ensemble tones were developed for the Celviano and Privia digital pianos and can be played individually or layered with Concert Grand Piano sounds. There are also new electric piano sounds derived from the Privia PX-5S Stage piano.

Casio's new Celviano and Privia models are available in black or brown with MSRP prices for the AP-260 selling for $1,499.99, the AP-460 at $1,899.99, PX-760 for $1,099.99 and the PX-860 at $1,499.99. For much more check: www.CasioMusicGear.com.








---
Web Page design is copyright © 2015 by Barry Rudolph