F-Pedals Eddie Kramer Series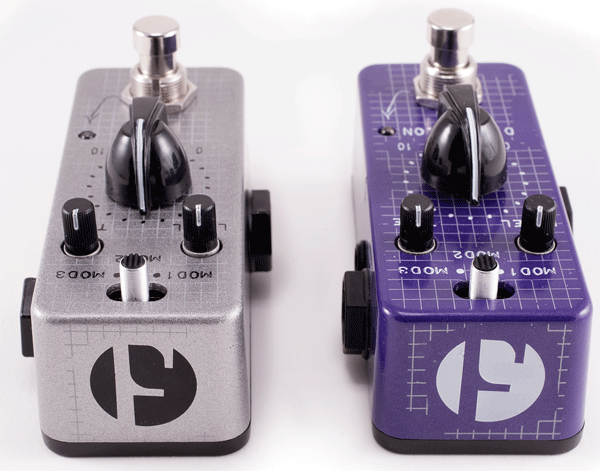 F-Pedals Eddie Kramer Series

Started in 2011by artist Francesco Sondelli and producer/engineer Eddie Kramer, F-Pedals are a new line of compact guitar effects pedals that are offered in two versions: conventional 9-volt powered via a standard jack on their side (the pedals are too small to contain a battery) or with their F-Power™ system added. Each F-Power-enabled pedal uses an imbedded induction coil to receive power wirelessly from the F-Board™ (sold separately).

Both F-Pedals and the F-Board can be used with a standard power supply that makes them easy to add to a guitarist's pedal board.

I received the first two models in the line: Phazevibe and Edistortion. Made in Italy in die-cast aluminum boxes, they both feature Level and Tone controls and three operating modes via a three-position "Mod" switch.
| | |
| --- | --- |
| F-Pedals Edistortion | F-Pedals Phazevibe |
Phazevibe is a phaser pedal with a large, main control knob for adjusting speed. In Mod position 1, it runs in low speed for the classic phaser sound and at faster speeds, it sounds like a rotary speaker effect. Mod Position 2 is also a phaser but as the speed increases it becomes an auto-wah effect and then Mod 3 starts with a Univibe™ sound that gets more intense as speed increases.

The Edistortion has a wide range of tonalities from heavily compressed distortion to subtle crunch by combining different settings of the main knob and the three modes. The three Mod positions change the sound from the highest compression and lowest output in Mod 1; with Mod 2 providing less squash but more output; and Mod 3 offers the least compression and the highest output.

Both are great sounding pedals that have good pick response, good dynamic range and super quiet operation. I like the bright yellow LED indicating they are running and powered up! These are solid pedals.

F-Pedals range from $129 up to $199 MSRP for the Phazevibe with F-Power. Check out: www.f-pedals.com.








---
Web Page design is copyright © 2015 by Barry Rudolph