Fishman Platinum Pro EQ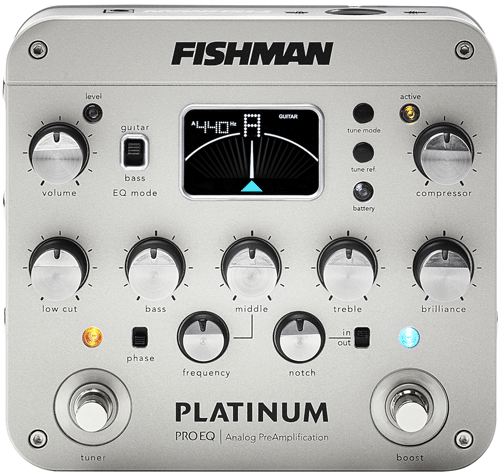 Fishman Platinum Pro EQ

The Platinum Pro EQ ($399.99 MSRP) pedal and Platinum Stage ($194.99 MSRP) belt-pack acoustic preamps are two new additions to Fishman's family of preamp products for processing and amplifying any acoustic instrument fitted with a pickup. First up is the all-analog Platinum Pro EQ high-headroom Class-A preamp. (Platinum Stage coming in a later New Toy)

I put the Platinum Pro EQ to work amplifying and improving the sound of a Takamine Model AC/TGB acoustic guitar for both a small stage monitor amp and also for a D.I. connection to the FOH system. I liked that there is a 1/4-inch output jack for the amp plus an "always on" fully-balanced XLR DI output switchable to either Pre--the guitar's dry input signal or Post with the pedal's processing--same as the 1/4-inch out.

I liked the choice of Fishman Classic EQ frequency centers for the Bass, Treble and Brilliance controls. For bass instruments, switch to Bass EQ mode using the Guitar/Bass switch to drop the center frequencies of these three bands by about an octave.

The sweepable (200 Hz to 3.1 kHz) mid-range frequency EQ section works well for both guitar and bass. The Takimine had a little bite to it and finding the offending frequency band and reducing it was easy and fast. The adjustable Low Cut (10 Hz to 160 Hz high pass filter) took care of some of the guitar's boomy nature and also reduced handling noise and the occasional but accidental guitar body thumps.

The Takamine's propensity to feedback was handled using the phase/polarity flip switch and the tunable notch filter that puts a sharp notch filter anywhere from 45 Hz to 1 kHz. Flipping the instrument's phase signal in relation to my stage amp has a dramatic effect of overall tone as well as feedback. It, along with a feedback notch frequency dialed in, makes possible the use of higher gain settings and/or the onboard soft-knee compressor and louder stage volume (if desired) with little worry of annoying feedback squeals.

The Platinum Pro EQ is a rugged all-metal stomp box; it has durable foot switches that activate either the adjustable volume boost or high-contrast chromatic tuner. I found the adjustable Boost mode great for solos and standout moments and the well-lit chromatic tuner works fantastic. With an effects loop, LED indicators for all functions, powered by a nine-volt battery or power supply (neither included), and useful for guitars or bass instruments, the Fishman Platinum Pro has everything you need to produce an excellent and finished sound from any acoustic instrument--be it guitar, bass, mandolin, or violin.

For more information about Fishman's new Platinum Analog Pre-Amps check: www.fishman.com.








---
Web Page design is copyright © 2015 by Barry Rudolph