Fishman Platinum Stage Pre-Amp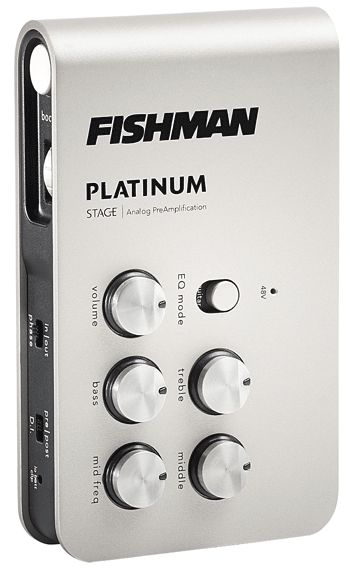 -- Fishman Platinum Stage Pre-Amp

I covered the Platinum Pro EQ recently in these pages and the Fishman Platinum Stage is its streamlined "brother" acoustic instrument pre-amp. Like the Platinum Pro EQ, the Stage uses discrete components in a high-headroom Class-A pre-amp circuit in a smaller rugged case that can be worn on your belt. Like a classic guitar or bass instrument, its well-thought out design and placement of controls, switches and jacks make using it in the studio or for live gigs nearly second nature after a while.

Taking its cue from the Pro EQ, the Stage has adjustable volume boost, balanced XLR DI output and is housed in a beautiful, all-metal road-ready design. There are Bass, Treble and Middle controls with a variable frequency Mid Freq setting and the Bass/Guitar EQ mode switch like the Platinum Pro.

I like the "can't miss" large Boost button facing up at you when wearing the Stage on your belt. Other switches and controls seldom adjusted while playing are recessed and placed on the surrounding sides of the unit so they are not easily bumped. There are: Out/In phase switch for minimizing feedback, three-frequency low cut switch, a Post/Pre DI output switch for the XLR direct output connector facing the floor, and both the 1/4-inch instrument input and stage amp jacks. The Gain Trim control optimizes Stage for piezo-electric pickups with low output.

With an included belt-clip, the Platinum Stage is perfect for mobile instrumentalists such as mandolin and fiddle players. It is powered by a 9-volt battery or wall-wart (both not included) or can also be powered via 48-volt phantom power.

The Fishman Platinum Stage Pre-Amp sells for $194.99 MSRP and for more about it, check www.fishman.com/products/view/platinum-stage-analog-preamp.








---
Web Page design is copyright © 2015 by Barry Rudolph