MOD Kits DIY MOD 102+ Guitar Amp Kit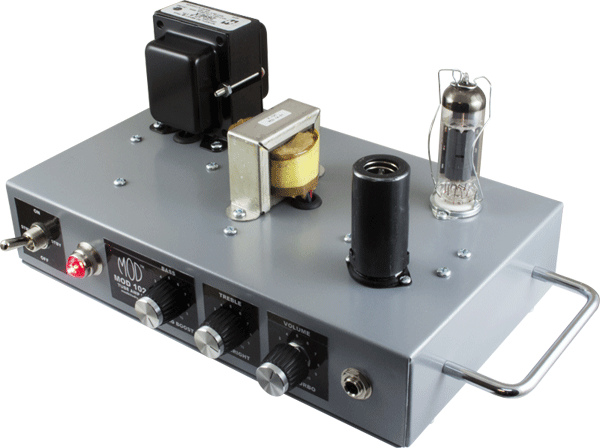 MOD Kits DIY MOD 102+ Guitar Amp Kit

The MOD 102+ amp kit is a significant upgraded version of the original MOD102 kit. It starts with a version of the American circuit design used in the Gibson GA-5 amp from the 1950's combined with a British style Class-A output section. But the MOD 102+ goes further with the "+" features that brings this amp to the front of the sonic line.

These special features include a three-position power off/standby/on toggle switch, and push-pull switches on the bass, treble and volume controls. Pull out the bass control knob for an excellent mid-range boost; pull out the treble control knob for a very British-sounding top boost; and pull out the volume control knob for "turbo boost" mode.

The kit comes with everything you need to build this little wonder including both tubes by JJ Electronics including the EL84/6BQ5 power output tube and a JJ ECC803-S for the pre-amp stage. The ECC803-S is a long-plate 12AX7 known for its complex mid range tones that offers a wider variety of tones. The mighty single-channel MOD 102+ makes 5 to 8-watts of power into an 8-ohm load (speaker) and uses solid-state diodes in the power supply. The single-ended EL84 output stage is cathode-biased Class-A with no bias adjustment necessary.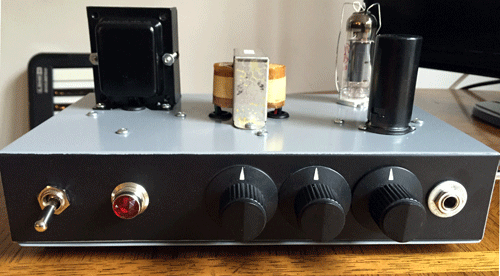 MOD Kits DIY MOD 102+ With Front Panel Mods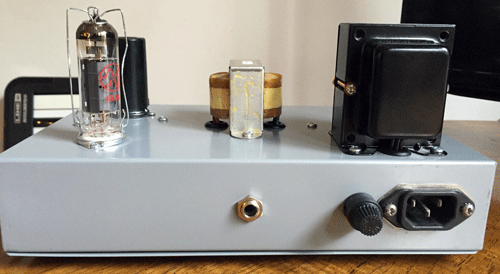 MOD Kits DIY MOD 102+ With Rear Panel Mods

The kit has a vintage red-jeweled pilot light assembly, a pre-punched steel chassis, carbon film resistors, metalized polyester coupling capacitors (the good ones for tone) and all wiring is done point-to-point using an ample supply of 20 AWG solid core, lacquered cloth covered, silver-tinned wire. The P-T269EX power transformer is by Hammond Manufacturing of Canada and the output transformer is a model P-T31.

I received a MOD 102+ for review and I set upon building it myself. I had built another MOD Kit called The Verb pedal and liked it. I found the instructions very clear with plenty of pictures and helpful constructions hints along the way. I would call myself experience in electronics (I like to restore vintage audio gear) and found that all you really need is a good set of hand tools (as indicated in the instructions' tool list) and a few hours to methodically read the instructions and construct it step-by-step. I took my time and it took me about 5 hours total to build the MOD 102+. Once finished and checked over, it worked the very first time I plugged it in!

I found all the parts to be top quality; the metal chassis perfectly machined and painted inside and out; and the circuit design and layout elegant. As I went along with the kit's construction, I did some my own additions and modifications. I put in an IEC connector/AC line filter, painted the front panel flat black as an accent, and used larger control knobs--the circuit is the same.
MOD Kits DIY MOD 102+ In Action

I first tested the MOD 102+ using the 12-inch speaker in my Fender Blues Junior. I loved the sound of that EL84 in saturation very much like a VOX amp. I have a stock Fender Strat and just playing an E-chord with both top boost and turbo boost switched in is chime-like and wonderful. Furthermore, the total volume in my living room/studio is not going to break my lease! This amp/speaker combination is my new recording setup when the guitar part calls for an overdriven sound--without speaker breakup. This combo also makes the best practice amp ever!

Comments from guitar players about the sound in the studio are over-the-top! It ran all day long with three different players using it on their recordings. I used a Shure SM57 offset on the 12-inch speaker in the studio's Fender Blues Junior and hardly changed its position for clean to crunch to overdriven sounds. For the most part I kept the bass control full up (for that speaker) and varied top boost and turbo boost. I tried two different Telecasters along with my Strat. This amp is totally quiet in both situations and all these guitars--especially with an American Deluxe Tele with Fender N3 pickups.

The MOD Kits DIY MOD 102+ Guitar Amp Kit sells through their Web site for $265. For a complete listing of kits available from MOD™ Kits DIY visit: www.modkitsdiy.com.








---
Web Page design is copyright © 2015 by Barry Rudolph