Park Amps' Little Head 18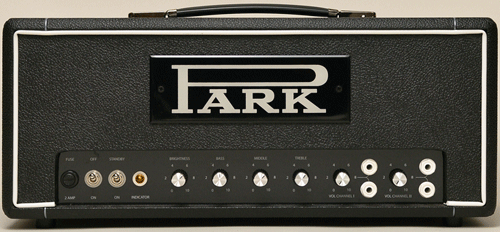 Park Amps' Little Head 18

The current rage of lower power guitar amps is greatly expanded with the addition of the hand-wired Park Little Head 18. It features the same pre-amp with cathode follower driving the tone stack as the Park 45. But there is now a highly configurable power amp design capable of using a number of different octal power amp tubes and rectifier tubes. You can go with good old rectifier sag by using a 5Y3, GZ34 or plug in a solid-state diode bridge for a tighter sound.

Interchangeable output tubes include 6V6, 6L6 and EL34 (6CA7) and since the power amp is cathode biased with separate resistors for each power tube, no user biasing is necessary when changing tubes. Overall tone and power levels will range from 15 to 23 clean watts depending on the choice of tubes.

Park Amps' Little Head 18 is capable of beautiful, sparkling clean tones, or overdriven Blues sounds to full-blown OD and classic rock tones. Of course all at playing levels that won't break your apartment lease. And that makes it a great choice for the bedroom practicing, studio recording or a small club gig.

Built on a strong, lightweight welded aluminum chassis, the Little Head features oversized power and output transformers, a fully implemented and proper power supply with filter choke, and a two-channel Park preamp with a Post Phase Inverter Master Volume.

The Park Amps' Little Head 18 sells for $2,500 MSRP and for more information, check: www.parkamplifiers.com.








---
Web Page design is copyright © 2015 by Barry Rudolph