PreSonus Studio One 3 Professional
PreSonus Studio One 3 Professional

Version 3 is the latest version of Studio One; it essentially has the same workflow as PreSonus' Version 2 but now includes a redesigned, GUI. The new graphics engine produces a cleaner, darker and flatter screen and is much easier on the eyes. All pages have been reorganized and consolidated to improve navigation and there is a new Loops tab to show all installed libraries. I found searching for just the right loop very easy using the new Keyword search feature.

But the Top-O-List of updates in Studio One 3 Pro is Arranger Track with unlimited Scratch Pad and the ability to move (using drag-n-drop) entire song sections shown in a left-hand sidebar list on the GUI. The unlimited Scratch Pad allows alternate versions of the song (including all plug-ins, automation and edits) to reside in a window side by side with the current song version in its separate window. You can have immediate access to an endless number of different song edits, mixes and arrangements without having to save copies or going back in undo history.

Studio One records audio in up to 32-bit floating point, uses a 64-bit mixer and comes with Project Page, a fully integrated mastering suite. As in previous versions, Melodyne Essential® is included and uses ARA or Audio Random Access technology for intimate connection to your song.

Studio One 3 works on any MAC or PC, notebooks and supports multi-touch displays and continues with SoundCloud™ sharing as before. Direct PreSonus Shop downloads are integrated right in the GUI window.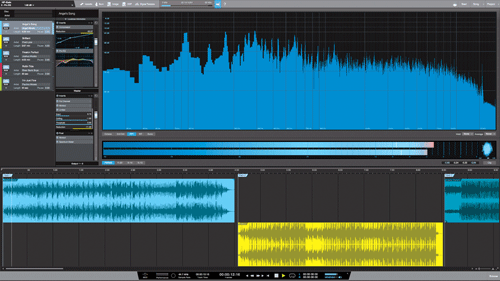 PreSonus Studio One 3 Professional--Project Page

Studio One 3 comes with two new virtual instruments and over 15 GB of content. Mai Tai is a polyphonic analog modeling synth that utilizes Studio One's new instrument engine. The new version of Presence XT updates the original Presence sample player and features dozens of new instruments plus uses disk streaming for large samples. Also with this version comes Bitcrusher--a lo-fi down-sampler plug-in and Rotor, a fully programmable rotary speaker plug-in.

Note FX plug-ins affect data and MIDI information rather than audio signals. Studio One 3 Pro has Arpeggiator with up to 32 individual steps with Chord mode where chords can be played throughout the pattern. Also in S1 Pro is Chorder, an automatic chord generator that can be triggered from playing any single note. With it, you can copy and transpose a chord and pattern to any key. Repeater is a delay/echo repeat Note FX effect plug-in with graphical display and editing.

Also updated is the console mixer with Channel editor, macro controls and extended FX chains via the Insert section. Each channel has gain reduction meters next to the level meter and there is an Edit button that opens to show routing of FX chains. Effects can be connected in series or parallel. Automation now allows for curved shaped automation lines and support for Studio One Remote for iPad.

PreSonus Studio One 3 Professional sells for $399.95 MAP. For more information, check: studioone.presonus.com.








---
Web Page design is copyright © 2015 by Barry Rudolph