RTW Masterclass Series

Mix Magazine "Compression And Compressors"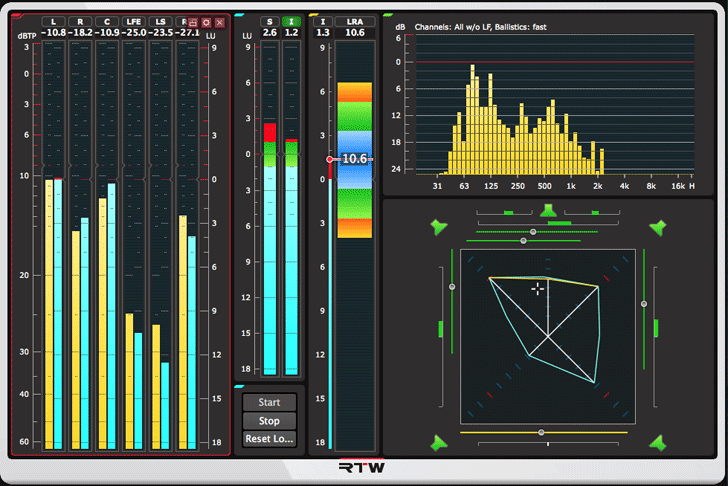 RTW Masterclass Series

From Köln Germany, RTW GmbH & Co.KG has its Masterclass plug-ins Series. These are software versions of the RTW-TouchMonitor hardware units. These RTW meters come in standard plug-in formats (VST 2, 3, RTAS, AAX 64, and AU) for Win/Mac systems and display audio levels and loudness range for mono, stereo, multi-channel and surround (up to 8-channels) audio with up to 96 kHz sample rates.

These tools are divided into two suites now both at version 2.0: RTW Mastering Tools and RTW Loudness Tools. Both allow for detailed customization of the set of tools of interest. You can set the individual tool size, number and layout within the plug-in window itself from icons in an embedded "dock" within the GUI. You can determine channel routing, metering scaling, RTA (real-time analyzer) parameters, and more from the different pop up menus that are available upon demand. Both suites include many useful presets of setups for both 2-ch and up to 7.1 Dolby Digital Plus surround work.

The RTW Mastering Tools features up to 8-ch. PPM, True Peak (with 4X oversampling) and Loudness measurement, surround sound analyzer, a multi-function correlator, 61-band RTA, 2-/4-channel vector scope, SPL view, and bar graph metering or numerical displays.

The RTW Loudness Tools focuses on achieving a target loudness range or LRA with selectable TV loudness standards such as ITU 1770-3, ITU 1771-2, EBU R 128, OP-59, ARIB, ATSC A/85, CALM, AGCOM, Trailer (TASA-85), and Commercial (SAWA-82).

A "must have" for complying, the RTW Masterclass Series is ready for all DAW systems used on or offline in broadcast, film re-recording and music production, the RTW Mastering Tools sells for $999 MSRP and the RTW Loudness Tools sells for $450 MSRP.

For more information check: https://www.rtw.com/en/products/software.html.








---
Web Page design is copyright © 2015 by Barry Rudolph