Blues City Music/Soldano 44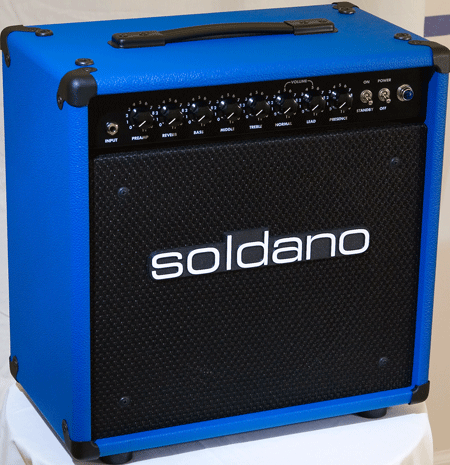 Blues City Music/Soldano 44

To celebrate their 10-year anniversary, Blues City Music teamed up with Soldano Custom Amplification to reissue the Soldano 44. Blues City Music owner James Burke asked Mike Soldano for an amp with a big sound in a small box.

This semi-open back 50-watt amp measures at 17.5H x 17.5W x 10-inchs deep and weighs 48 pounds and differs from any other 44 because it is covered in Regency Blue Tolex--an exclusive color for Blues City Music.

It is a combo amp with a choice of a 12-inch speaker from Eminence Legend, Celestion Vintage 30, Jensen and others. The controls include pre-amp, reverb, bass, middle, treble, presence, and normal volume. The amp also has a lead volume control that is activated by a footswitch making it perfect for boosting solos. The tube line up is: two Sovtek 5881/6L6's and five 12AX7's pre-gain tubes from various sources.

For that twangy sound you get a three-spring Magic reverb tank with a choice of the standard tank to chassis harness and speaker connection or the upgraded custom harnesses designed and manufactured by Solid Cables. Two speaker jacks and a rotary impedance selector switch allows for a 4, 8, or 16-ohm speaker inside or using an extension speaker cabinet.

Pretty awesome, the Blues City Music/Soldano 44 sells for $2,349 MSRP and much more about it, check out: www.bluescitymusic.com.








---
Web Page design is copyright © 2015 by Barry Rudolph