Sonnox Fraunhofer Pro-Codec Version 3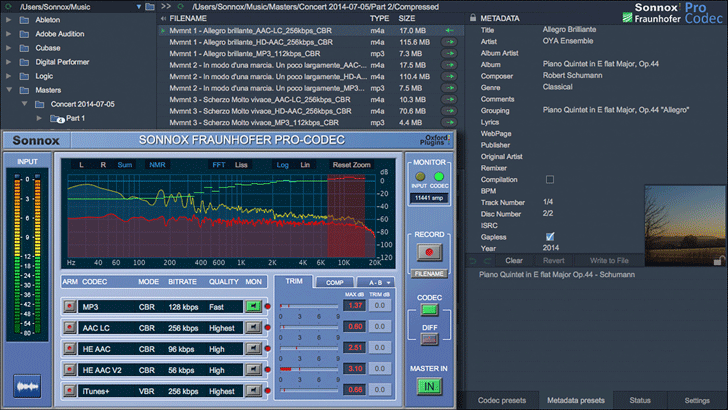 -- Sonnox Fraunhofer Pro-Codec Version 3----

It's great to follow the rapid ascent and development of this premier encoder/decoder system now fully featured and mature as the Sonnox Fraunhofer Pro-Codec Version 3.

Introduced in 2011, the original Sonnox Fraunhofer Pro-Codec provided a way to do real-time mp3/AAC encoding/decoding for mixing and mastering engineers to audition and compare the differences in the sound of their music mixes when played through a choice of up to five different, simultaneously running perceptual audio codecs. For the "Mastered for iTunes" program (Mac version only), Version 2 added Apple's iTunes+ codec to the long list of available codecs for mixing and recording files.

Now Sonnox Fraunhofer Pro-Codec V3 builds on V2 with the inclusion of meta-data entry, editing and batch processing using the standalone Pro Codec Manager application. Pro Codec Manager is an advanced and expanded version of Sonnox's own standalone Codec Toolbox manager software. It has faster off-line operation, an improved finder and many new features such as file Normalization in addition to the Clip Safe mode.

Pro-Codec directly encodes audio with sample rates up to 192kHz and bit rates up to 32-bit with no need to down sample beforehand. The Pro-Codec Manager supports two different metadata formats: ID3v2--mostly used for MP3 files and iTunes Metadata. All Metadata Tags for MP3 files are supported with only a few not supported when encoding AAC files. ISRC (International Standard Recording Code) is now supported for both file types.

I don't mix surround but know that Pro-Codec integrates the Fraunhofer AAC and mp3 codecs including MPEG Surround and multi-channel AAC formats for surround mixing.

I found the Fraunhofer Pro-Codec V3 to be the gold standard in a single, powerful audio encoding plug-in for my use in Pro Tools 11 mixing. Without a close rival, it sounds wonderful and works flawlessly to audition and show to my clients exactly how my mix sounds when made into the targeted mp3 or AAC file. And that is an awesome capability to offer!

Pro-Codec Version 3 sells for $495 MSRP and adds 64-bit compatibility and AAX support to existing supported formats RTAS, AU and VST. For more information, check: www.sonnox.com/procodec.








---
Web Page design is copyright © 2015 by Barry Rudolph