Waldorf 2-Pole Analog Filter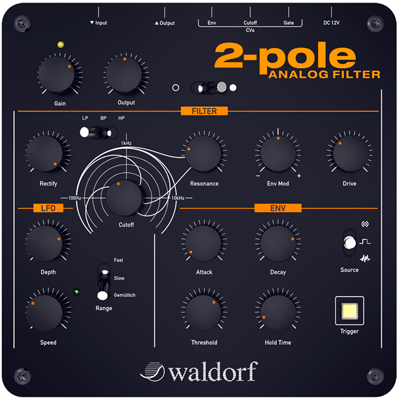 Waldorf 2-Pole Analog Filter

There is nothing like the sound of a real analog filter--hardware, knobs, switches and it plugs into your gear. Since its very beginnings, Waldorf has been renowned for the quality of their excellent sounding analog filters. Notably their 4-pole, x-Pole and AFB16 filters (which were eventually modeled for plug-ins) are mainstays and a big part of the sound of their Wave, Q+ and Pulse synthesizers.

So now Waldorf has 'ported' a 2-pole analog filter into a standalone, stomp box-sized unit for guitar players, DJs or keyboard players to access the Waldorf sound. The 2-Pole uses a one-knob/one-function style interface--no menu crawling. It is easy to add filter sweeps that can be modulated with the onboard LFO as part of your live performance. Or get funky by connecting a pedal controller to the 2-Poles cutoff CV input and built-in envelope follower.

Guitar players especially will welcome Waldorf's 2-Pole analog filter with its post-filter adjustable overdrive. It sells for $329 MSRP and for much more, check out: www.waldorf-music.info/2-pole-overview.








---
Web Page design is copyright © 2015 by Barry Rudolph