Adam Audio 2.1 Bundle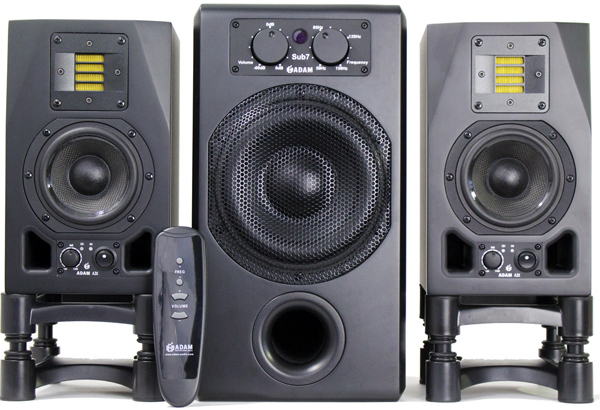 Adam Audio 2.1 Bundle--A3XSUB7
For only a limited time and price, ADAM Audio US offers a collection of four 2.1 Bundles that pair two ADAM monitors with a matched ADAM subwoofer. Beginning April 1, 2016 through June, you can choose between a pair of four different sized ADAM monitors and sub woofer combinations to handle any studio, project studio or home theatre system. The four bundles ranging from smallest to largest are the: A3X-SUB7, A5X-SUB8, A7X-SUB10 and A8X-SUB12.
Common to all the monitor speakers used in these bundles is the X-ART (eXtended Accelerating Ribbon Technology) ribbon tweeter high frequency driver rather than traditional voice coil dome tweeter or horn. Years ago for me, the ribbon tweeters were one of the main reasons I bought a pair of Adam S2.5A monitors for my mixing studio. I have found the X-ART tweeters to be far less ear fatiguing during long recording/mixing sessions. Handmade in Berlin, Germany with a frequency response reaching up to 50 kHz, each X-ART tweeter used the A3X, A5X, A7X and A8X is 'voiced' to match each model's requirements.
All four of the paired subwoofers feature a level control (-60dB to +6dB), phase switch (180-degrees) and a variable upper frequency control (50-150Hz). For the satellite outputs, an 85Hz high pass filter can be switched in to meet the Dolby® recommendations for theater sound.
The A3X-SUB7 bundle (reviewed here) pairs the A3X monitor with the Sub7 Subwoofer. This 2.1 bundle has a system frequency response of 32Hz to 50kHz and a max SPL of 107dB. The A3X uses a 25-watt Class-AB amplifier to drive the 4.5-inch (114mm) woofer and another 25-watt Class AB amp to drive the X-ART tweeter. Incidentally, the A3X is the smallest monitor loudspeaker I know of to use a ribbon tweeter.
The companion Sub7 goes down to 31Hz and is designed (like all the Subs) to work with the AX Series--its compact size make placement easy. It uses a 7-inch (178mm) driver and is powered by a 140-watt amp. I liked the included handheld wireless remote control that comes with all the subwoofers in these bundles. It is for adjusting the subwoofer's volume and crossover frequency remotely from the listening position or anywhere in the room. There are two motorized front panel controls that actually "rotate" when adjusting them using the up/down buttons on the battery-powered remote control. Cool!
The Other Adam Audio 2.1 Bundles
The A5X-SUB8 bundle comes with two A5X monitors with 5.5-inch (140mm) woofers driven by Adam's own 50-watt Class-D power amplifier. This 2.1 bundle has a system frequency response of 28Hz to 50kHz and a max SPL of 110dB. The Sub8 reproduces down to 28Hz using an 8.5-inch (215mm) woofer and 160-watts from an ICE Class-D power amp.

The A7X-SUB10 bundle comes with two A7X monitors with 7-inch (178mm) woofers driven by Adam's own 100-watt Class-D power amplifier. This 2.1 bundle has a system frequency response of 25Hz to 50kHz and a max SPL of 113dB. The Sub10 reproduces down to 25Hz using a 10-inch (254mm) woofer and 160-watts from an ICE Class-D power amp.

The A8X-SUB12 bundle comes with A8X monitors that have 8.5-inch (215mm) woofers powered by 150-watt Class-D amps while the X-ART tweeters are powered by Class-AB amps. This 2.1 bundle has a system frequency response of 22Hz to 50kHz and a max SPL of 120dB. The Sub12 subwoofer allows for cascading as many additional Sub12s you might require for your dance club! Ha!
In the Studio With the A3X-SUB7
I set up my A3X-SUB7 kit in a near-field position on wooden plinths on my desktop and on either side of my computer screen. The bottoms of the A3Xs have soft rubber feet that isolate them from vibrating these stands.
I placed them 28-inches apart as measured from the center of each of the tweeters. Maintaining an equilateral triangle, the listening position corner is at the apex of the two remaining 28-inch sides of the triangle where they meet just behind my head. It's the same listening position I use for my mid-field Adam monitors.
I placed the Sub7 directly on the floor below and equidistant from the left and right A3Xs. I wanted to maintain symmetry so that the Sub7 is on the centerline of my studio directly in front of the listening position. There are complete set up tips and suggestions in the excellent manual to maximize the performance and sound of your 2.1 monitoring setup.
Stereo line level XLR cables from my Cranesong Avocet monitor controller connect to the Sub7 L/R XLR inputs while the satellite A3Xs connect to the L/R XLR outputs of Sub7. There are also duplicate RCA jacks to allow the same hookup if you are using one of these systems with home theatre/stereo gear. I used the 85Hz satellite filter as I do for my main monitors and sub woofer and did not flipped the Sub7's polarity.
Since the A3Xs are directly inline and below my mid-field monitors, switching back and forth between them and my mid-field Adam monitors is very seamless. It was very easy to match the level and brightness; the A3X monitor has a detent front panel level control and a rear panel treble level control to get this correct.
In my small mixing studio (the room is only 9.5-feet or 2.9m wide) the A3Xs reproduce all the spatial feeling I put into my mixes and they contrasted well with my larger main Adam S2.5A monitors--especially in the frequency range between 200 and 400 Hz. This makes them valuable to check my mix's size and energy in this critical lower middle frequency range. My room's acoustical response has a slight dip in this range and so I find slight EQ changes in this range less noticeable listening on my main monitors.
Now with the Sub7 running, I don't have to lose much of the subsonic octave energy when comparing the sound of my mix to the way it sounds on the larger Adams. That octave is there but just not as massive and huge sounding. Suffice it to say that I find the entire full frequency range scales up and down proportionately. A very good thing!
I did have to turn the treble up on the A3Xs to match my S2.5As in my acoustically treated room and, even though I've not had this new 2.1 bundle long, I am using them more for mixing and editing than the larger system. They are closer to me on the desktop, sound more intimate, and subtle mix changes and judging overall musicality is easy to hear at low volume.
I tried the Stereo Link feature that is a great for mobile laptop DAW users who don't have a monitor controller and usually work on headphones. Modern software DAWs like Ableton, Cubase, Pro Tools Free don't require an external interface with volume control. You can work on songs but instead of using phones, just plug into the pair of A3Xs and control stereo volume of both the A3Xs using the volume control of only one of them. Sweet!
The four Adams Audio 2.1 bundles each have discounted prices that range from $200 to $500 (do not incude Iso-Acoustic stands shown) for a limited time at select dealers. For more details, dealers, and pricing, check out: www.adam-audio.com/en/pro-audio/products.
---
Web Page design is copyright © 2016 by Barry Rudolph