Audio-Technica Artist Elite ATM230PK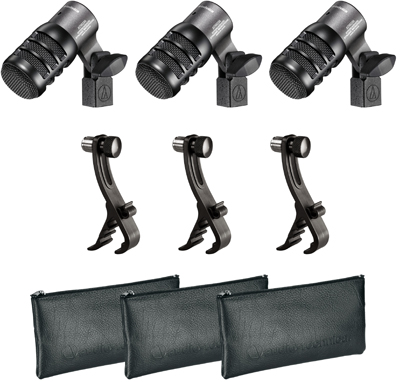 Audio-Technica Artist Elite ATM230PK

A-T's Artist Elite® ATM230PK is a specially priced bundle of three ATM230 compact instrument dynamic microphones. The ATM230 has a hypercardioid polar pattern and a proprietary capsule designed to excel in high SPL applications such as inches away from drum kit toms or loud percussion instruments. Even inches from loud drums, I found them to produce a full sound with transients--the sound at the moment of the stick's contact with the drumhead--better represented when I compared it to my usual tom-tom microphone.
Audio-Technica Artist Elite ATM230 Hypercardioid Instrument

The low profile design of this all-metal microphone, along with the (included) clip-on AT8665 drum rim shock mounting system, made it easy to experiment with different positions on the toms where I've found certain mic stand/boom setups just don't work or are in the way of the drummer.

The low profile also makes them an obvious choice for live stages for a less cluttered setup and look. In the studio, I used three less mic stands around the drum kit for capturing the sound of the two rack toms and single floor tom. I love that!

With its hypercardioid polar pattern, the ATM230 zeros in and pickups exactly where I pointed them--it I wanted less attack, I would just aim them slightly off-axis of the drumhead center. I also noticed, when soloing individual tom tracks, the (minimal) leakage from adjacent drums in the kit to sound more natural and thus contributed more favorable to the overall kit's sound.

The ATM230 features rugged metal construction and comes with an AT8665 drum mount and a protective pouch. The ATM230 sells individually for $139 MSRP and has a two-year warranty. The ATM230PK bundles three ATM230 microphones and sells for $349 MSRP.

There is much more at: www.audio-technica.com/cms/wired_mics/0696da772808b28f/index.html.








---
Web Page design is copyright © 2016 by Barry Rudolph