Auralex ProPanels and ProKits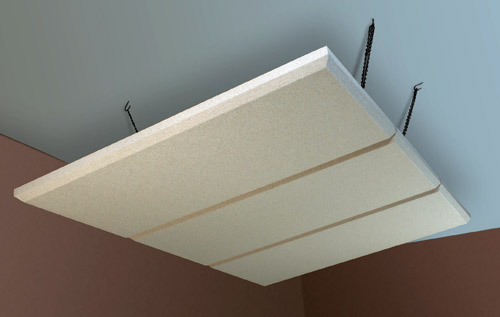 Auralex ProPanel Cloud

Auralex ProPanel™ fabric wrapped acoustical absorption panels including the ProPanel Cloud panels (pictured) are part of the all-in-one ProKits acoustic treatment kits. Just as absorption panels are placed at the first reflection points on the left and right side walls either side of the listening position to reduce unwanted reflections of mid and high frequencies, ProPanel Cloud panels hang horizontally overhead to reduce sound reflections coming off the ceiling.

The ProPanel mix cloud system is configurable in three sizes: 4' x 4', 4' x 6' and 4' x 8'. These are all two-inch thick beveled-edged panel systems. A basic ProPanel Cloud installation is composed of 2' x 4' two-inch thick, bevel-edged panels that have a frameless design and include mounting hardware. They are available in Obsidian or Sandstone colors.

Auralex sells these kits based on the acoustic treatment requirements of your room's size. The ProPanel ProKit-1 is for a 12' x 12' room and includes nine ProPanels while ProPanel ProKit-2 is for rooms measuring up to 18' x 20' and includes 18 panels.

www.auralex.com/product/propanels/

www.auralex.com/product/propanel-prokits/

www.auralex.com/product/propanel-procloud/

Check out and learn what you'll need to straighten out you room's acoustics. www.auralex.com/.








---
Web Page design is copyright © 2016 by Barry Rudolph