Mix Magazine "Compression And Compressors"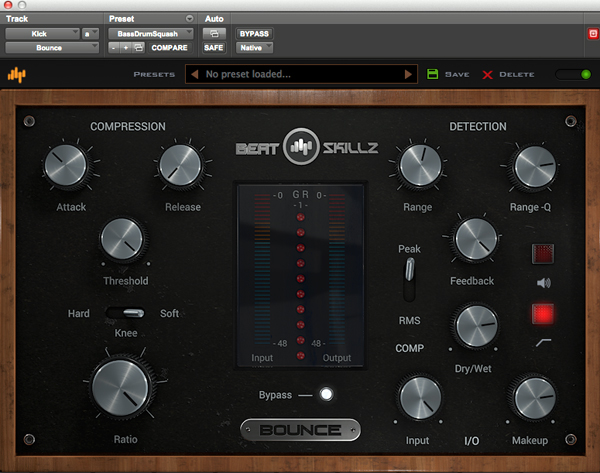 Beatskillz Bounce Compressor Plug-in

Bounce is a new compressor plug-in from Beatskillz. The parent company of Beatskillz is Beatfactory Academy, one of the top Music Production and Sound Engineering Schools in the world. It is based in Mumbai, India. Check out: www.beatfactory.in.

Bounce is specifically designed to do much more than just compress audio; it has a fully controllable Detector section to "dial in" very specific compression effects on drums, bass, synths, vocals--any source including full mixes for "In The Box" mastering.

You can use Bounce in full bandwidth mode for smooth non-intrusive dynamic control and then use the side-chain filter to emphasize the compression of certain bands of frequencies allowing all others to pass mostly unaffected.

Bounce is outfitted with all the controls of a professional compressor including: Attack, Release, Threshold, Hard/Soft knee, and adjustable compression Ratio up to 20:1. I like the choice of Peak or RMS detectors and I always like the separate Input and Output/Makeup Gain controls! There is good I/O metering and a side-chain listen button.

The Range control sets the frequency range, from 60Hz to 10kHz, of the side-chain equalizer/filter and the Range Q sets its bandwidth. The incorrectly named Feedback controls sets the strength of the side-chain filter's affect on compression while the Wet/Dry control sets the mix or ratio of compressed to input signal.

I had the most fun using the High Pass mode on the side chain filter--it radicalizes the filter for getting wacky dynamic reversal effects when combined with the careful setting of the Attack and Release controls.

Available in VST/AU/AAX running on Mac OSX and Win 32 & 64-bit, Bounce is a useful, musically creative and adaptable compressor--awesome! It sells for $99 downloadable at: www.beatskillz.com/bounce/.








---
Web Page design is copyright © 2016 by Barry Rudolph