Casio MZ-Series Workstations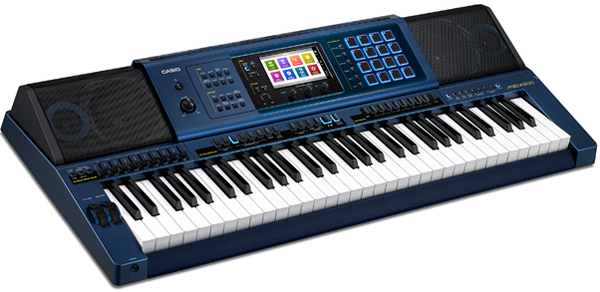 Casio MZ-Series Workstations

The Casio MZ-X300 and MZ-X500 (shown) are arranger workstation keyboards with new sounds, innovative effects and new rhythms created by worldwide developers. The MZ-Series keyboards come with built-in speakers and dual 20-watt amplifiers that creates a room-filling sound.

The MZ-X300 has 900 preset tones and 280 rhythm patterns, while the MZ-X500 features 1,100 preset tones and 330 rhythm patterns ranging from standard beats used in rock, jazz and pop music to rhythms from various regions of the world. Both keyboards are capable of 128-note polyphony and feature digital effects based on 20 different algorithms.

Notably, both keyboards have a 5.2-inch LCD color touch interface display for easily selecting and modifying any rhythm or tone. The Casio MZ-X500 adds 16 touch-responsive multi-pads (the MZ-X300 has four pads) for triggering sounds, samples, or playing musical phrases and/or additional melodies "on the fly".

There is an auto accompaniment mode for assigning chord progressions to any of the 16 pads--this would eliminate the need to play chords with the left hand, so the user can focus on playing melodies, samples, chords and more.

Both the all-black MZ-X300 and the blue MZ-X500 keyboards will be available soon for $1,099 and $1,499 respectively. Check: www.CasioMusicGear.com.








---
Web Page design is copyright © 2016 by Barry Rudolph