Drawmer MC3.1 Monitor Controller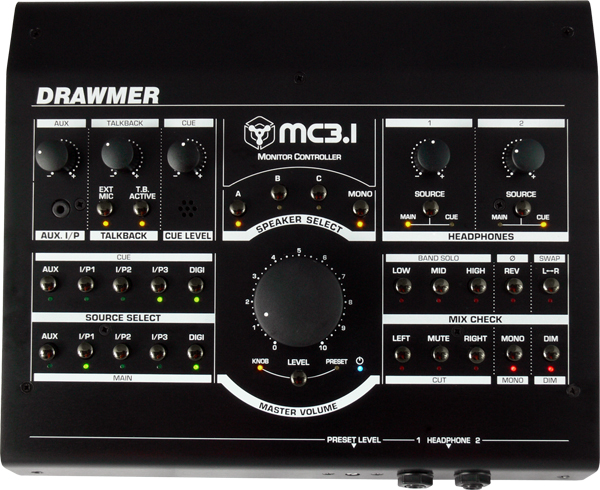 Drawmer MC3.1 Monitor Controller

Drawmer's MC3.1 Monitor Controller updates their MC2.1 with an AES/SPDIF (24-bit/192kHz) digital input, a mono sub feed (output), assignable cue system, plus an upgraded talkback system with both an external mic XLR input and footswitch jack.

I like the new Mix Check or Band Solo feature where you can monitor in solo (non-destructively) the low, mid-range, and high frequencies' contribution to your mix. I especially thought the ability to set (recessed screwdriver trim pot) a preset, calibrated monitoring level--say 85dB SPL great! Calibrated and realistic monitoring levels are super-important.>

Besides the digital input, other source inputs controllable from the front panel include: two stereo XLR analog line inputs, L/R RCA jacks plus an 1/8-inch jack (for connecting portable music devices) with a separate volume control. Both the Main mix and Cue mixes can be derived from any choice of these five input sources at the same time. This means the artist could have a completely different mix than the engineer and producer.

There are three separate balanced loudspeaker outputs selectable in any combination plus an additional subwoofer output usable in conjunction with any of the loudspeaker outputs. All loudspeaker outputs have separate trim for precise level matching and there are two cue system master volume controls with a pair of handy 1/4-inch front panel headphone jacks.

I think Drawmer has a winner here with the right combination of controls, features and Mix Check for the $999 MSRP price tag. The Drawmer MC3.1 is marketed, sold and distributed in the U.S. by TransAudio Group. Check: www.transaudiogroup.com.

For more about the Drawmer MC3.1, check: www.drawmer.com/products/monitor_controller/mc31_monitor_controller.php.








---
Web Page design is copyright © 2016 by Barry Rudolph