Ear Trumpet Labs Josephine Condenser Microphone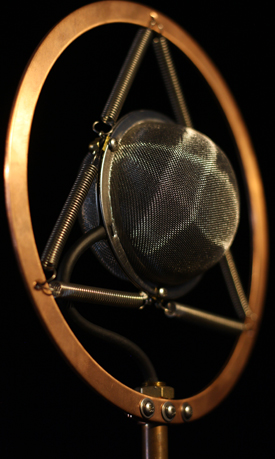 Ear Trumpet Labs Josephine Microphone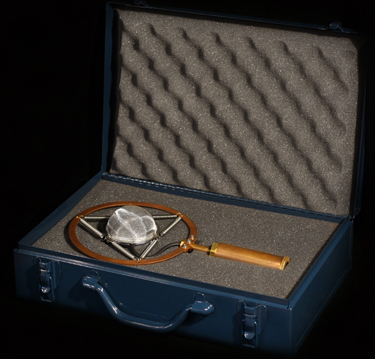 Ear Trumpet Labs Josephine Condenser Microphone Kit
Full Specifications

Transducer: condenser, large (26 mm) diaphragm

Polar pattern: cardioid

Frequency response: 20Hz to 17kHz (-3dB)

Sensitivity: -38.8dB (11 mV/Pa)

Output impedance: < 50 Ohms

Noise (A-weighted): <17 dBA

+48V phantom power

Dimensions: 12 x 6 1/2 x 3-inches;
head is 3-inches in diameter
Ladies and gentlemen: meet Josephine! She is an avant-garde take on a classic microphone design of the 1930s and 40s but uses a modern 26-mm electret condenser capsule. Designed for live vocal and ensemble use, Josephine looks the stunning 'flapper' with her spherical stainless steel mesh head basket that "floats" oblivious to outside physical forces. But inside of the head basket, a silk and foam pop filter plus shock and vibration damping minimize handling noise while an internal rubber baffle shapes the sound.

Capsules are imported from China and individually tested and selected--about 30% are rejected for not meeting design criteria. The circuit uses a hand-matched and biased J-FETs with a fully balanced transformerless output.

Josephine only cares about what's in front of her so a cardioid polar pattern with good feedback rejection (if you use her on stage) is optimized for more distance use by singers or acoustic ensembles. A natural sound is easy to capture from 6 to 48-inches away.

I tried Josephine for vocals, group sings and acoustic guitar recording all at much further away than I usually record instruments and vocalists. All sounded awesome with a unique and clear presence--the high frequency lift worked well when far from sound sources. I liked the vintage style with the spring suspension and surrounding copper ring along with the stainless steel metal hardware and copper base.

Josephine from Ear Trumpet Labs sells for $599 MSRP and it comes in a all-metal, foam lined traveling case and I want one for its much different sound than any of my other microphones. For more information, check: www.eartrumpetlabs.com/products/microphones/josephine.

Ear Trumpet Labs Josephine Condenser Microphone Response Curve
---
Web Page design is copyright © 2016 by Barry Rudolph