Eventide H910 Harmonizer® Plug-in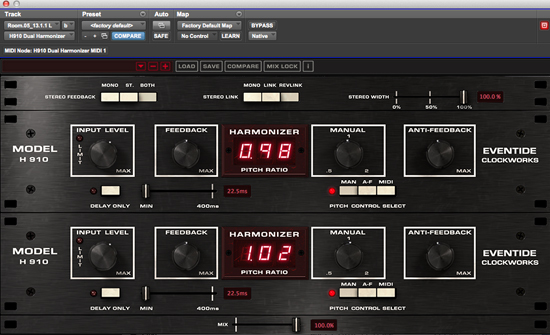 Eventide Dual H910 Harmonizer® Plug-in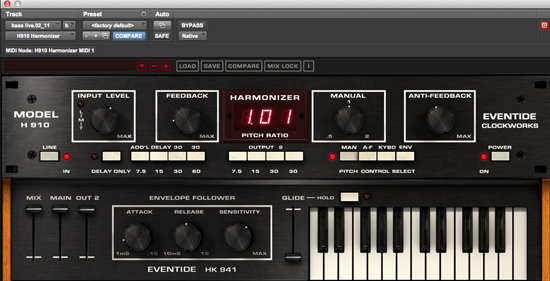 Eventide H910 Harmonizer® Plug-in

If you have Eventide's Anthology X bundle and have recently upgraded you're already "in the house" with this incredibly faithful recreation of the legendary H910 Harmonizer used on countless ground-breaking works by artists including John Lennon, U2, Frank Zappa, Led Zeppelin, Jon Anderson, Bon Jovi, AC/DC, David Bowie, and Van Halen. Now the Eventide H910 Harmonizer is available as a separate Native plug-in and is ready to be enjoyed for its unique combination of pitch shifting, modulation and delay. It's only $99 until July 31, 2016 before it goes to $249.

With its true analog modeling of the highly nonlinear electronics of original's juiciness and grit, the H910 is useful to double and spread out guitars and vocals and, used more subtly, to fatten snares and de-tune synths. You can add harmonies or slapback delays to vocals or get freaky mechanical sounds, drone effects or robot language using self-oscillation, delay and anti-feedback controls as found on the original hardware unit.




It's important to note that a number of enhancements have been added to this release. You get the H910 Dual Harmonizer which recreates the popular technique of running two H910 units in parallel with their outputs panned left and right to create lush doubling and stereo-widening with cross-feedback.

The H910-EKD (Envelope/Keyboard/Delay) incorporates all of the features from the original hardware rack box with an onscreen recreation of the original piano-style keyboard remote controller that allows you to play musical pitch offsets and blend in a second delay line (Out 2) by using the new mixer controls for added stereo sound. The onscreen keyboard is also MIDI mapped---it works great as I found.

The new envelope follower allows you to use the input signal to bend the pitch slightly (or massively) for wild harmonizer effects the H910 is known for. Always loved this box and this plug-in version delivers! Much more at: www.eventideaudio.com/promo/h910_sale.








---
Web Page design is copyright © 2016 by Barry Rudolph