Eventide MixingLink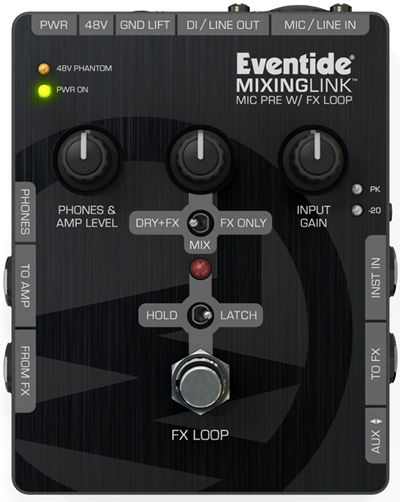 Eventide MixingLink

Eventide's MixingLink™ defies easy categorization. It is a battery-powered stomp box that has a XLR microphone/DI pre-amp (with 48-volt phantom power using the included power supply) a mono effect loop with onboard mixer, auxiliary send/return paths, and a clear-sounding stereo headphone amp. MixingLink will act as a nexus for interconnecting disparate audio sources and processors each with different audio operating levels, impedances and connectors. An ingenious electronic design packed into a small box, it'll accept line, microphone and instrument levels.

Working as a mic/DI pre-amp with XLR/TRS Combi input jack for both XLR mic input and 1/4-inch balances line input, MixingLink has up to 65 dB of gain for amplifying low output mics right up to balanced line level sufficient to drive my Pro Tools 12 HDX I/O. For quick set ups, especially for portable sound work, I found MixingLink super handy, sound great and have ample headroom yet low noise.

Audio signals within MixingLink are monitored using its headphone amp with a separate volume/level control that also adjusts the 1/4-inch "To Amp" jack to drive a guitar amp. You could sing through your guitar amp using a phantom powered condenser mic using MixingLink and connect a duplicate line level recording signal to a pro interface.

In the studio I used MixingLink as a mic pre-amp for just "one more microphone" recording input. I liked that its line level output goes directly to the DAW interface--no console required. In addition, the FX Loop allows for a stomp pedal to be inserted in the recording path within MixingLink itself. I could mix in an analog distortion pedal. The FX Loop send and return support balanced and unbalanced signals so virtually any type of external processor or audio gear can be interfaced into the loop.

When the loop is enabled, there are three mixing control knob effect modes. "Dry+Fx" keeps the dry signal level fixed and the knob sets the effect level. The knob changes to a wet/dry control in "Mix" mode and "FX Only" mutes the dry signal with the knob setting the effect level.

Ideal for any creative and adventurous music producer looking for a new sound or technique, MixingLink is superb for interconnecting any pieces of gear together. More setups and configurations at: eventide.com/AudioDivision/Products/StompBoxes/MixingLink.aspx.

I highly recommended it and it sells for $299 MSRP. Check: www.eventide.com.








---
Web Page design is copyright © 2016 by Barry Rudolph