FabFilter Pro•C2 Compressor Plug-in

Mix Magazine "Compression And Compressors"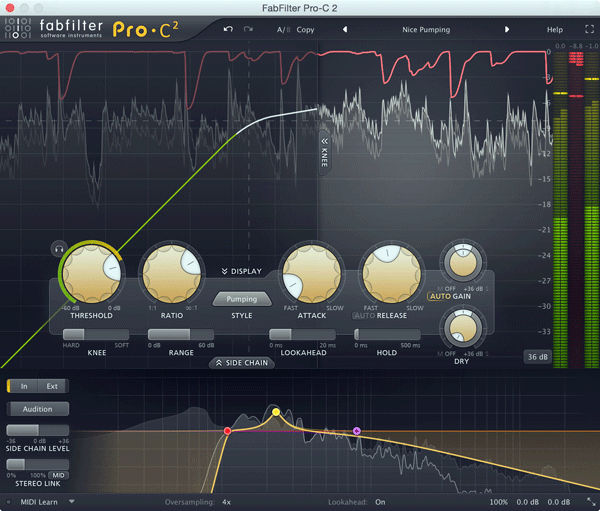 FabFilter Pro•C2 Compressor Plug-in

FabFilter Pro•C2 is a major update to their Pro•C compressor plug-in. More like a whole new plug-in, Pro•C2 has five brand-new compression styles--algorithms especially designed for modern processing with unique character and feel. There are styles for vocal processing, mastering or EDM pumping. Other new features are: lookahead (up to 20 MS), range (limits max gain change), hold, (an adjustable time period before the release time begins), side-chain EQ, oversampling, and an awesome, redesigned GUI. In short, I found it easier than ever to set up typical compressor duties effectively using Pro•C2.

I'm getting 'the hang' of using the Vocal style to get lead vocals to sit in a good place within the mix--I find that I use less breakpoint automation on vocal tracks with Pro•C2 helping me out.

I used the Mastering style and the intelligent Auto Gain feature to "beef up" finished stereo mixes transparently (or not). Certain music styles such as Electronica Pop sound better using less transparency with C2 pumping away. I liked the Bus style for controlling sub mixes--the Wet/Dry control comes in handy for drum stems and the Punch style sounds very analog-like on individual tracks--it worked great on guitar and bass amps.

The knee is now freely adjustable from 0 dB up to 72 dB and lookahead and hold settings allow for using slower attack time settings for minimal "dulling" of transients and less distortion in the bass that comes with very fast release times. There is an oversampling (up to 4x) mode for super high quality and critical processing great for mastering. It does increase latency very slightly but well within Pro Tools 12's compensation range.

I made quick use of the side-chain EQ and I liked the little headphone icon called Audition Triggering. You are able to hear exactly what parts of the signal that are triggering gain reduction. If you like to do M/S processing, it is easier with FabFilter Pro•C2's dedicated side-chain section with programmable HP/LP filters. When mastering, I now use (at the minimum) a high pass filter to allow the low frequencies a little room to breath dynamically.

I like the Retina interface with (optional) animated level knee displays, accurate peak/loudness metering, and multiple interface sizes (Small, Medium, and Large), plus a Full Screen mode that impresses my mix clients. (I drag it to a second video screen!)

FabFilter Pro•C2 has replaced most of my compressor plug-ins these days and it is a rock-solid, core plug-in everyone should own! It is now available for $179 MSRP and works on Windows and Mac OS X in VST and VST 3, Audio Units, AAX, RTAS and AudioSuite plug-in formats. Both 32-bit and 64-bit hosts are supported. More at: www.fabfilter.com/products/pro-c-2-compressor-plug-in.








---
Web Page design is copyright © 2016 by Barry Rudolph