Focusrite 2nd Generation Scarlett 2i2 USB Interface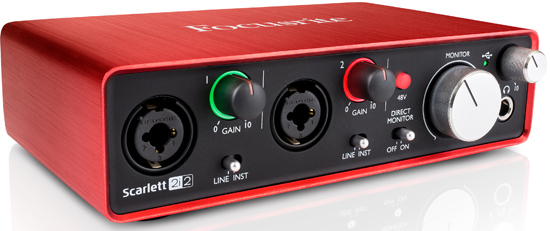 Focusrite 2nd Generation Scarlett 2i2 USB Interface

The entire line of the new 2nd Generation Scarlett USB 2.0 interfaces are all updated inside and out with significant changes and improvements. The Scarlett range of USB 2.0 interfaces is already the world's number one seller.

Inside: all Scarlett interfaces are now capable of up to 24-bit and 192kHz operation and have redesigned instrument inputs with more headroom for accepting hotter signals. Also inside are improved gain pots with smooth, linear operation for setting recording levels with precision.

But a super important internal improvement is the 2nd Gen's lower latency performance--as low as 2.74ms! Now you can record through your DAW's plug-in effects instead of relying on other ways of monitoring yourself. As I found, there is no need to switch modes or use other software to go from playback to recording.

Outside: my Scarlett 2i2 is sleek; it sports a brighter aluminum extruded cabinet and the front and back panels use a screw-less design. There are also new solid, knurled aluminum control knobs and the no-slip rubber feet on the bottom of the unit keep it better anchored to my desktop--even when plugging mics and cables in and out of it.

I couldn't wait to hookup my Scarlett 2i2 to my Pro Tools 12.5.2 HDX rig! Pro Tools recognized the 2i2 in the Playback engine dialog and after I selected it, I was good to go. There is plenty of headphone volume for low impedance studio headphones and sufficient monitoring output level from the L/R rear panel TRS jacks to drive my pro Cranesong Avocet monitor controller's line level inputs.

Focusrite 2nd Generation Scarlett 2i2 USB Interface--Rear Panel

I hooked up my Ear Trumpet Labs Josephine condenser microphone, switched on +48-volt phantom powering on Scarlett and I was recording instantly all with Direct Monitoring switched off. With Scarlett, you have a choice for Direct Monitoring on/off. At 44.1kHz sample rate (128 buffer), the latency is barely noticeable and not bothersome to me--but if it bothers you, just use Direct Monitoring that works great too.

I found the mic pre-amp sounded great for either mics or for a direct instruments or synthesizers that put out hotter line level signals. I like the Line/Instrument switch. For hot Line levels coming from -10dB or hotter active sources, switch it to Line and for direct guitars and basses, use Instrument.

The Focusrite Scarlett 2i2 is my new portable interface for my lap top rig and sells for $149 MAP. Included with your Scarlett 2nd Gen USB interface purchase are the following: Ableton Live Lite, Novation Bass Station virtual synth, Focusrite's Red 2 & 3 Plug-in Suite, Softube Time and Tone Bundle, 2GB of Loopmasters content and for Pro Tools® | First users, the Focusrite Creative Pack.

There is much more about the entire range of 2nd Generation of Focusrite Scarlett USB interfaces at: us.focusrite.com/scarlett-range.








---
Web Page design is copyright © 2016 by Barry Rudolph