OnBoard Research GoTune Model GT3 Wireless Tuner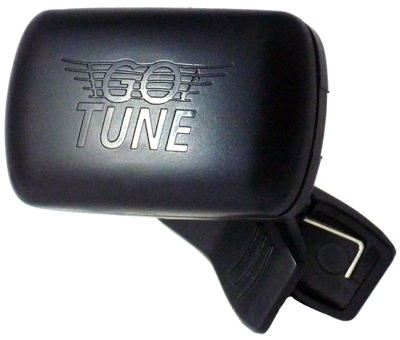 GoTune Model GT3 Wireless Tuner

The latest innovation from OnBoard Research Corporation is the GoTune GT3 Wireless tuner--it's the first of its kind for tuning guitars using a smart phone or tablet. Using Bluetooth technology, the GT3 sends tuning data wirelessly to your smart device running any Bluetooth-enable tuner app.

Currently there are three iOS tuner apps: Tonal Energy and free versions of Elegantune and insTuner.

Like the previously reviewed OnBoard Research PT10C Mini, PT10s and PT40C tuners, it features a clip-on sensor that detects pitch from the instrument's vibrating body--they do not have microphones that can pick up other sounds, noises and cause erroneous tuner operation.

The all-black, low profile GT3 has a single on/off switch with a multi-colored LED status indicator for pairing and checking the state of its battery. Like PT40C model, the GT3 is recharged using an included mini-USB cable.

Depending on the app you choose (and there will be more coming), I found the GT3 to worked like a directly "wired" tuner app on my iPhone 6. Once initially paired with my phone, I could leave the GT3 clipped to my guitar and turned on for the entire day and night on a single charge. I would only open the app on my phone when I needed to tune. The GT3 was always putting out the signal ready to be read on the phone!

The GT3 sells for $59.95 and comes with complete (but simple) instructions. Much more at: www.onboardresearch.com.








---
Web Page design is copyright © 2016 by Barry Rudolph