MOD Kits DIY Ring Resonator Deluxe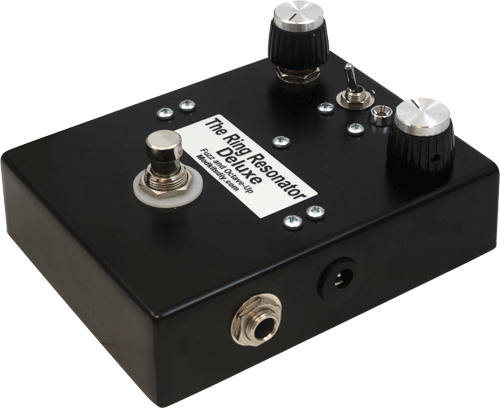 MOD Kits DIY Ring Resonator Deluxe

The MOD™ Kits DIY Ring Resonator Deluxe is an octave-up fuzz effect from the original Ring Resonator. It has an added LED, a push-push output control knob and mini-toggle switch. With the push-push output control all the way down, the octave-up is turned off for the fuzz tone only. You then have, with the switch, a choice between thick and dark fuzz colors and brighter, more 'fizzy' fuzz tone sounds.

MOD Kits DIY and Assemblies are designed to teach and give both the novice and experienced musicians the opportunity to build or modify their own amps, effects pedals and guitars. I've built two of their kits in the past and I can confirm that all kits come with easy-to-follow instructions, use point-to-point wiring and work excellently.

They are: MOD Kits DIY MOD 102+ Guitar Amp Kit and Mod Kits DIY Verb Pedal.

All effect pedal and amplifier kits come with a pre-drilled enclosures with all the necessary parts included. All you need to provide are hand tools, a soldering iron, solder and follow directions. The effect pedals operates on a 9V batteries; for a longer lasting option, a 9-volt adapter can be purchased separately.

MOD Kits DIY Ring Resonator Deluxe kit sells for $74.95 and for much more about it and to hear sound samples, check out: www.modkitsdiy.com/pedal/ring_resonator_deluxe.








---
Web Page design is copyright © 2016 by Barry Rudolph