Mojave Audio MA-50 Condenser Microphone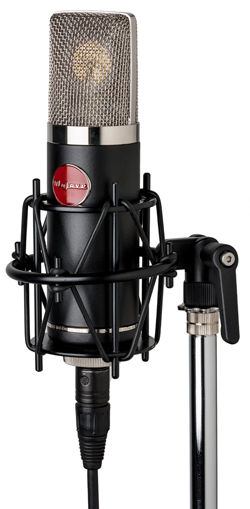 Mojave Audio MA-50 Condenser Microphone

Mojave's new MA-50 microphone starts with the same capsule as their MA-200 tube condenser model and also their MA-201fet model. The phantom-powered MA-50 is a Field Effect Transistor condenser microphone that will handle up to 140dB SPL (with <0.5% THD) making it an excellent general-purpose tool for any recording application from vocals, voiceovers, acoustic guitars or orchestral instruments--even for percussion instruments or as a drum kit overhead.

I first gave the MA-50 a trial here recording acoustic guitar. I used my Retro Powerstrip recording channel and placed the mic out about 10-inches over the 12-fret but aimed it towards the guitar's bridge.

The MA-50 has a 1-inch large-diaphragm capsule with a gold-sputtered, 3-micron thick Mylar diaphragm. The microphone has a fixed-cardioid polar pattern, is transformerless, and has a low noise floor--better than 16dB (A-weighted).

Recording acoustic guitar with the MA-50 went very smooth with the included, well-made shock mount enabling me to try various positions when finally settling on the best place for this particular guitar, player and the rhythm part he was playing. I wanted a good mix of brightness and full-bodied tone and the MA-50 has all the warm depth you could want. Plus I didn't have to 'carve' with the Powerstrip's EQ hardly at all; basically just to fit the guitar part into the existing track production.

For recording vocals, I used 30dB of gain from my RTZ 9762 microphone pre-amp only--no compressor or EQ. My singer was about 10-inches from the capsule (including the Pete's Place Blast Pad Filter Pop Screen) and not loud. The cardioid pattern pickup was tight enough and worked well to suppress other noise and unwanted room ambience. For this male tenor, the MA-50 produced a warm, natural timbre with a very slightly open top end. There were no sibilance problems like I often encounter with condenser microphones in this price range.

The Mojave Audio MA-50 sells for $495, ships with a shock mount and foam-lined carrying case. So I give it a "big thumbs up" for a good, all around microphone that'll give years of solid performance in your studio. Check: www.mojaveaudio.com/MA-50.html.








---
Web Page design is copyright © 2016 by Barry Rudolph