NS Design CR4 RADIUS Bass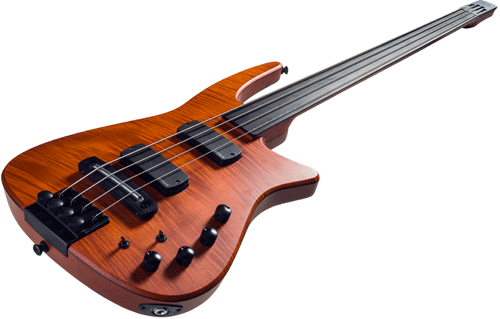 NS Design CR4 RADIUS Bass

Ned Steinberger's CR4 RADIUS bass guitar is made in the Czech Republic and features the Fusion™ neck, the Diradial™ body shape with a rounded front and a rear contour for enhanced contact, and the patented NS tuning system and NS/EMG pickup system.

The Fusion is a bolt-on neck made of one piece of maple with a continuous carbon fiber core and adjustable truss rod. The neck has the feel of wood, but its dense core provides enhanced sustain and note definition. The fingerboard is ebony over a neck with a 15-inch radius and a 34-inch scale--by comparison, the CR5 bass' scale is 35-inches.

The headstock features an aluminum head plate with ball-end string mounting slots and a self-clamping, precision tuning system built into the body. The NS Design/EMG collaboration produced a dual system with both a piezoelectric and magnetic pickups and a built-in 18-volt powered pre-amp. The controls include: Master Volume, active Treble cut/boost, active Bass cut/boost, rotary magnetic/piezo pickup blend knob, 3-position magnetic pickup selector switch, and 3-position piezo EQ switch.

For the musician, the 8.4-pound RADIUS is a perfectly balanced instrument that gives the left hand total freedom of movement with no downward dipping of the neck. The NS Designs CR4 sells for $2,695 MAP. For more information, check: http://thinkNS.com.








---
Web Page design is copyright © 2016 by Barry Rudolph