NUGEN Audio Loudness Toolkit 2

Mix Magazine "Compression And Compressors"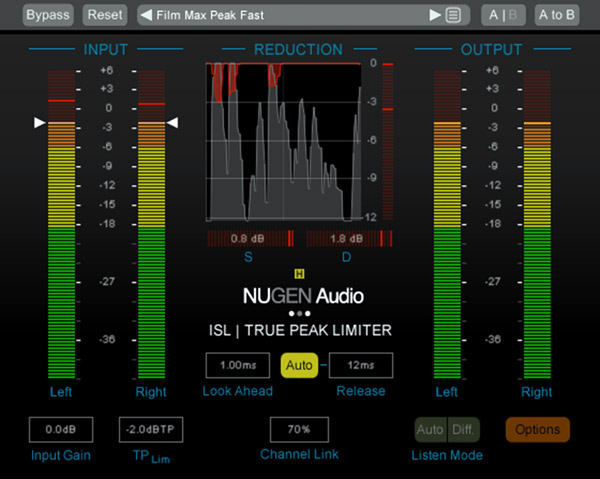 NUGEN Audio ISL 2ST Limiter Screen

Loudness Toolkit 2 is NUGEN Audio's latest version of their set of loudness metering/measurement and correction tools. By combining program and short-term or momentary loudness corrections, the Loudness Toolkit 2 is essential for reliably meeting loudness compliance standards as mandated for post-production and broadcast audio streams.

The three tools in Toolkit 2 are: ISL 2 True-Peak Limiter, LM-Correct 2 Quick-Fix, and the VisLM-C (compact) and VisLM-H (with histogram) 2 Loudness Meters. All three come as AudioSuite processors for Pro Tools (I'm running them in Pro Tools HDX 12.3 for this review) plus the LM-Correct 2 and VisLM run as standalone processors. They all run as plug-ins and work in Macs and PCs in AAX, RTAS, VST2, VST3, and AU formats.

ISL 2 True-Peak Limiter

The NUGEN Audio ISL inter-sample True Peak limiter controls true peak audio levels for audio files from mono up to 7.1 surround sound files. It offers a choice between using algorithms for either the ITU-R B.S. 1770 standard or the afclip used in the Mastered for iTunes+® assessment to conform audio.

Nowadays it is important to 'brick wall' limit audio destined for post-production and broadcast and also for subsequent codec processing to prevent the data compression process from distorting.

In ISL 2 there are ten presets with names like "Broadcast Safe Peak -2dB", "CD Mastering Very Loud", or "Mastered For iTunes (afclip)" to get you started. These presets (assuming nominal audio input levels) will automatically conform your mix's level to the underlying compliance standard--as transparently as possible. The new Dynamic Auto-Release mode works towards transparency by intelligently adjusting recovery for low frequency content. Release times can be a faster for any given moment in the program yet not distort.

I already had a Pop music mix started and the producer wanted it loud but "legal" since it was going to be submitted to a music library house. I inserted ISL 2 on the master fader in Pro Tools and started toggling through the presets. I like the way I could scroll through presets: just click on the forward or backwards arrows; I could do this while the music played. Using the Auto function causes the Output level to be compensated automatically and once I selected the Master for iTunes preset, I turned off Auto to A/B the level difference the ISL 2 made.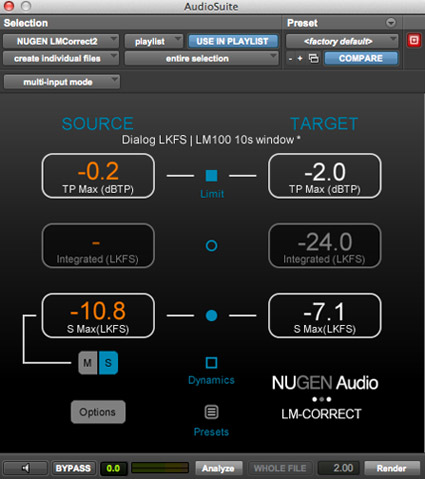 NUGEN Audio LM-Correct 2 Screen

I was impressed with the sound and I checked the final level for encoding by inserting my Sonnox Codec Toolbox plug-in after ISL 2 to ascertain that it would not distort the iTunes®+ Codec. No worries!

Absolutely no problems for such a "no brainer" process! Normally, I fuss around with compressors and limiters to get something close but not as accurately and with the confidence I achieve with ISL 2 instantly.

LM-Correct 2

NUGEN Audio's LM-Correct 2 will perform, in faster than real-time (up to 100X), both loudness analysis and correction. Both the standalone and AudioSuite versions work the same to correct both program and short-term or momentary loudness issues.

LM-Correct 2's GUI is divided into the Source column on the left and the Target column on the right. Once you select a loudness standard from a list of 14 (currently) such as EBU R128 S1 or ITU-R BS 1770-2&3, the Target column shows the required values for: maximum allowable True Peak level (dBTP), Integrated program Loudness (LKFS--Loudness Full-Scale) and either S Max (short-term loudness) or M Max (Momentary Loudness).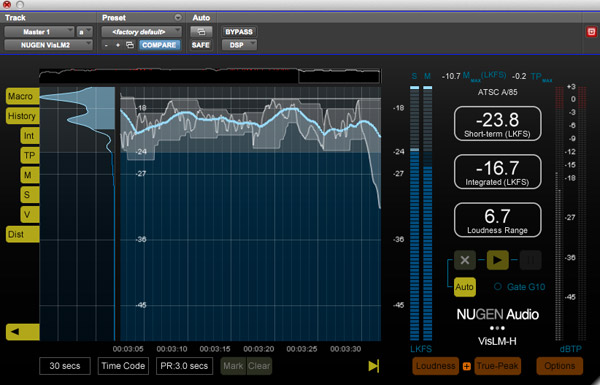 NUGEN Audio VisLM-H Loudness Meter Screen

You can vary the presets pending on what the unique and specifically mandated target settings are desired. You can change targets: True Peak level (dBTP); Integrated program Loudness; and either S Max or M Max--whichever is selected.

LM-Correct first analyzes the audio file and you get a reading of the audio's True Peak, LKFS and either S Max or M Max--both values are always determined with each analysis.

I liked LM-Correct and used it as an AudioSuite processor for a batch of already mixed songs I had in a Pro Tools session. I wanted to level out the widely disparate loudness levels of songs in a sequence for an audio/video presentation. There was no time to sit through the entire program and "ride" gains up and down and the client did not want me to set up a hokey-sounding "ducking" processor.

I had 20 song files in 24-bit format that I wanted to be at the same loudness for playback behind the voiceover's edited recording. Once I had them sequenced in a running order, I used LM-Correct 2 set to preset ITU-R BS 1770 to process the hour-long sequence. They all now played at the same loudness so as to not intrude on the dialog. This is a great use for LM-Correct 2 and it works super fast.

VisLM-H 2 Loudness Meter

VisLM-H Loudness Meter has a resizable GUI that will expand for an "across the room" visual presentation that is great for any control room; it displays a real-time moving history of loudness information locked to time code from the host DAW. You can scroll through and "flag" moments in the program for scrutiny later.

If you change the loudness parameters, in ReMEM™ program loudness overdub mode, the changes are added and the curves are re-calculated. I have to say this meter is a fascinating display to watch my music mixes as they parade by. It is easy to see the 'ebb and flow' of the mixes dynamics and I especially like the True Peak flags that show me exactly where on the timeline (time code numbers) where an excessive peak occurred. How did I get along without this in the past?

The Loudness Toolkit 2 sells for $949 MSRP and there are upgrade paths for current users of earlier versions of VisLM, ISL and LM-Correct. Current owners of Loudness Toolkit 1 can upgrade for $399. DSP versions of ISL 2 and VisLM-H 2 are available for Pro Tools HDX users. Much more at: www.nugenaudio.com.








---
Web Page design is copyright © 2016 by Barry Rudolph