Intellitouch Tuner Family from OnBoard Research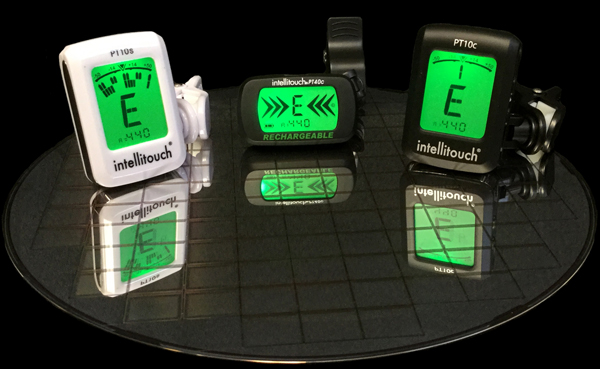 Intellitouch Tuner Family from OnBoard Research
There are three new tuners in OnBoard Research's line. They all feature OnBoard Research's clip-on sensor that detects pitch from the instrument's vibrating body--they do not have microphones that can pick up other sounds, noises and cause erroneous tuner operation. These are the first clip-on tuners in the world and their sensors only respond to the instrument on which it is attached.
Starting with the least expensive, (pictured far right) the PT10C Mini sells for $19.95. It is about 1-inch square and clips on electric and acoustic guitars, basses, mandolins or even banjos. It uses a green screen when you're in tune and goes red when you're not. It also has a chromatic readout and needle display.
Next (on the left), the super-accurate PT10S at $29.95 has all of the PT10C features and adds selectable capo settings, equal or pure temperament tunings, and selectable key transposition. Both the PT10C and PT10S use a single included CR2032 lithium oxide battery.
Lastly, the PT40C at $29.95 is rechargeable (with included USB charger cable) and has all the features of the others including their built-in digital clocks. You can check the time without notice or drawing attention from students or others who might be offended.
There is much more about all three in the growing family of Intellitouch Tuners at www.onboardresearch.com. Check it out!
---
Web Page design is copyright © 2016 by Barry Rudolph