Other World Computing 2.0TB Mercury Electra MAX 6G SSD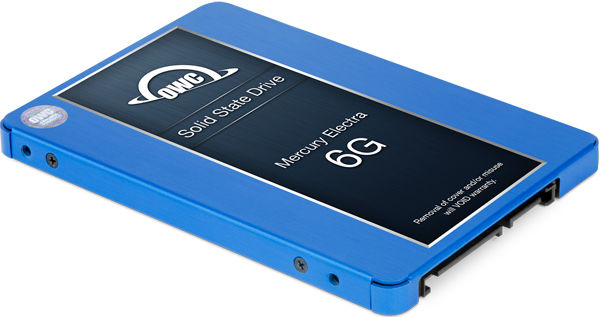 Other World Computing 2.0TB Mercury Electra MAX 6G SSD

Other World Computing aka OWC has a new 2.0TB entry in its line of solid-state-drives called the Mercury Electra 6G MAX. While the Mercury Electra 6G line is great for use internally or in an external enclosure, the new 2.0TB model, labeled the Electra 6G MAX, is qualified for internal use only. The Mercury line of internal SSDs consists of the Mercury Extreme Pro 6G, Mercury Electra MAX 6G (reviewed here), and the Mercury Electra 3G. The line also includes the Mercury Accelsior E2 PCIe (SSD on a card).

Last year I installed in my 2010 Mac Pro Tower (5,1) 8-core the OWC Mount Pro Bundle with a Mercury Electra 3G SSD, 960GB, Sled and Toolkit. I am quite happy with this excellent update, which "breathes" new life and speed into my Pro Tools computer. I run OS 10.8.5 and Pro Tools HDX 12.4, and with the Mercury Electra 3G for my system drive, my computer (after checking 20GB of RAM) boots up in under 20-seconds. Applications open super fast, and now with two SSD drives installed, my computer is totally quiet. Recording and mixing in the same room as your DAW rig used to require an isolation cabinet for the computer, external drives and interfaces--not at all now!

Check: http://eshop.macsales.com/item/OWC/DIYMP9S3E960/.

The 2TB Mercury Electra MAX 6G 2.5-inch SSD I received for review is capable of real world speeds of 490/471 MB/sec read/write speeds. Mercury Electra drives use premium-quality, tier-1 async NAND and controller technologies with exceptional wear-leveling and block management. The OWC Mercury Electra MAX 6G is designed for Macs first--simply format in a few seconds and go!

I wanted to replace my internal 1TB audio hard drive to get an increase in both operating speed and storage space. I also received an OWC 2.5-inch Drive Sled designed to fit the Mercury Electra into one of the four drive bays inside of my computer. This sled adapts the Mercury 2.5-inch 7mm SSD to slide into a 3.5-inch bay slot and mate to the connector inside the Mac.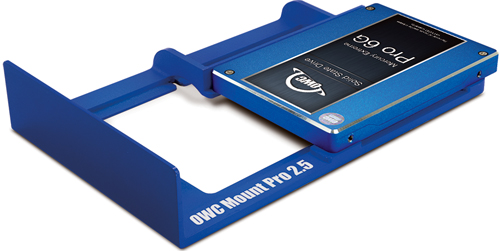 Mercury Extreme Pro 6G On the OWC Mount Pro 2.5 Sled

After formatting, I copied over about 510GB from my existing 7200-RPM audio drive-this a little more than an hour. I launched a Pro Tools session copied to the Mercury Electra MAX-it had used 100 voices so far (44.1-kHz/24-bit Buffer size set to 128 samples). I put another 156 tracks (voices) in record for a total of 256-the max voice count for a single HDX processor card. The System Usage window in Pro Tools showed Disk usage at 17%. Disk displays the read/write activity of audio files flowing to and from the hard disk.

I copied that same session with its audio tracks back to my 7,200 RPM internal hard drive and launched the same session from that drive and put the same tracks in record. This time Disk showed 44%--more than twice the activity and there were occasional CPU spikes to 100%.

Now with the OWC Mercury Electra 6G for audio and Mercury Electra 3G system drives, I find these large Pro Tools sessions load faster, and run much smoother with less hiccups that I've come to expect using my old hard drives. Both these SSDs are faster, quieter and the sled kit makes installing them even easier than a mechanical hard drive.

For me, it is confidence building to know that OWC SSDs are designed and manufactured in North America from foreign and domestic parts, and undergo a rigorous 7-stage testing procedure including 100% burn-in. Mercury Electra drives come with a full 3-year warranty and OWC's free USA-based lifetime support.

As tested, the OWC 2.0TB Mercury Electra MAX 6G 2.5 Serial-ATA 7mm Solid State drive sells for $697.99. If you require the Sled, it is $19.

Check: http://eshop.macsales.com/item/OWC/SSD7E6G02T/.








---
Web Page design is copyright © 2016 by Barry Rudolph