Casa Distortion Pedalpunk Stomp Box Interface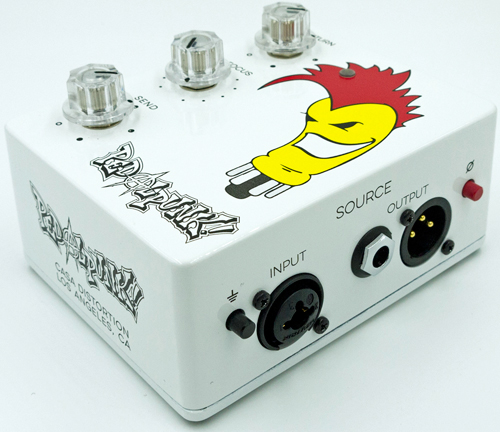 Casa Distortion Pedalpunk Stomp Box Interface

Pedalpunk is a single-channel interface that connects the guitar stomp box world of unbalanced 1/4-inch connections to your studio's professional balanced line level world of XLR and TRS connections. Sized to fit within your guitar pedal board (or not), Pedalpunk is housed in a full-size aluminum pedal box and runs on the included nine-volt, 1 amp power supply.

On one side of Pedalpunk cabinet is the Source--Input/Output connections to connect to line level sources and returns in your studio console, DAW or live sound rig. There are both balanced Neutrik XLR Combo input and XLR output connectors with a 1/4-inch TRS output jack that mirrors the XLR out. In addition, there are polarity flip Ø and chassis ground lift push buttons if you need them.

The other side of Pedalpunk has unbalanced 1/4-inch Send and Return jacks for connection to any guitar effects pedal(s) or your whole pedal board.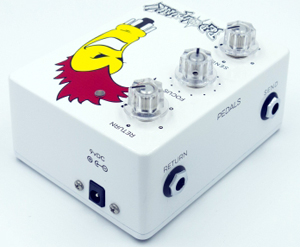 Casa Distortion Pedalpunk Stomp Box Interface

Key to Pedalpunk's operation and sound is that it is purposely designed to have 'color'; it's not transparent sounding like pro audio gear. In fact by connecting the 1/4-inch Send and Return jacks together with a short jumper, Pedalpunk functions as a standalone "audio coloring box" you can use to add character and grittiness to any channel or bus in your mix.

There are three controls to configure Pedalpunk and to set how colorful it sounds. The Return knob sets the level coming in from your pedals into the unit's Return jack. That signal will be sent to the unit's XLR output. Cranking up this control will overdrive the circuitry and add grunginess and attitude to the existing sound of the pedal(s) you've got connected.

The Send knob sets the level coming from the XLR input of Pedalpunk that then goes out the Send jack to your pedal(s). Since this control is in front of a custom-wound input transformer, cranking it up will begin to saturate the sound and add harmonic distortion.

Lastly, a very important control for setting up awesome sound treatments is the Focus knob. Focus adjusts and matches (or not!) the Send signal's impedance as seen by the input of your pedal(s). At full CW, impedance is nominal. Focus is like an adjustable grunge knob and more hearable on fuzz and distortion pedals. Focus is a situational tweak--meaning it depends on what kind of pedal or exactly what you're going for--it is a lot fun to experiment with the Focus control.

In The Studio

While mixing I wanted to use a Germanium transistor fuzz tone pedal called Fuzz Face for a guitar track that was just too clean. I sent out of an interface output from Pro Tools to the Input XLR of Pedalpunk. Pedalpunk's XLR Output connects to my interface input routed to a separate Aux fader in my mixer. Having the "fuzzed" version of the clean signal worked out well for automating the amount fuzz easily in the mix--more in choruses--less in the verses or none at all sometimes.

I found Pedalpunk to offer several variants of the Fuzz Face sound just by adjusting the three controls. I ended up recording the Pedalpunk'd sound as I wanted to try it on the lead vocal in the Rap section of the song. Guess I'll need another one!

The Casa Distortion Pedalpunk Stomp Box Interface sells for $349 MSRP and comes with a power supply that will run up to three of the units. You can also buy two PedalPunks for $649--go stereo! It is available at: pedalpunk.com.








---
Web Page design is copyright © 2016 by Barry Rudolph