PSP Audioware PSP 2445 Reverb Plug-in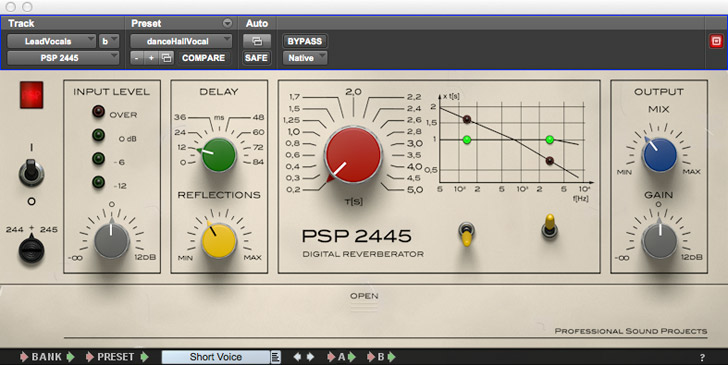 PSP Audioware PSP 2445 Reverb Plug-in

I'm always attracted to vintage studio gear especially very rare units that, because of their rarity and cost, were not common in most US recording studios. PSP Audioware has released a plug-in reverb inspired by two early digital age hardware reverbs: the EMT 244 and EMT 245. PSP thoroughly researched how to bring the specific features of those simple, yet very musical sounding hardware reverbs to life. To help PSP Audioware produce the PSP 2445 Reverb plug-in, it was a good idea to solicit Barry Blesser, the original designer of the algorithms for those units. In addition, Blesser went on to create the algorithms for the famed EMT 250 reverb.

Having the opportunity with this emulation, PSP added updates, parameters and controls not offered on the original units plus the ability to use either the 244 or 245 engines separately or run both simultaneously for super rich and fat-sounding reverbs.

The PSP 2445 contains emulations for both the original EMT 244 digital reverberator and the later EMT 245 unit. The EMT 245 updated the 244 with controls for pre-delay and the level of Early Reflections. Both these four-rack space units used 13-bit A/D/D/A technology and could provide reverb times (RT60) from 0.4 to 4.5-seconds.

Retaining the look of the EMT 245, the photo-realistic front panel GUI of the PSP 2445 has: both Input and Output Gain controls; Wet/Dry blend (Output Mix); a switch that toggles between the 244 only, 245 only, or a blend of the two reverb algorithms; a large red Time control knob for any RT60 time from 0.2 to 5.0 seconds; Delay from 0ms to 84ms--actually a pre-delay control with no song tempo locking just like old school; the Reflections knob sets the amount of Early Reflections mixed into the reverb tail; and separate toggle switches for a low frequency boost/flat and high frequency roll-off/flat EQ choices.

To save GUI space, a section of the front panel opens up to reveal hidden controls for swapping the left/right outputs for the either the 244 or 245 reverbs; a variable high pass filter control knob for the input signal to the reverb; separate reverberation time controls for both the low and high frequency ranges; and the Balance control sets the L/R stereo output balance.

Presets are handled by PSP Audioware's standard preset bar at the bottom of the GUI. You may load a bank of factory presets to confine your choices among similar spaces--rooms versus special effects such as "80s Drum Verb 1" then save your changes to a new preset.

With very minimal parameter changes required, getting a reverb just right for a mix is fast and I found using the PSP 2445 super easy. I especially liked the EMT plates and the very short loudness enhancing presets.

For a lead vocal in a Dance Hall mix, I started with a preset called Short Vocal inserted on the vocal track itself. With PSP 2445's Time knob down to 0.2 or 0.3 seconds, 12ms Delay, and the Reflections knob at about 11AM position (pictured GUI), I would carefully set the Output Mix to get a very subtle and strengthening vocal effect that would run through the entire song.

Definitely a great tool in my mixing, I'm finding the PSP 2445 awesome for short and tight ambient effects and/or tonal colorations for vocals or instruments. Its simple operation and classic and vintage digital sound are winners for me!

PSP 2445 sells for $129 downloadable as AU, AAX, VST, RTAS from their Web site at: www.PSPaudioware.com.








---
Web Page design is copyright © 2016 by Barry Rudolph