Mix Magazine "Compression And Compressors"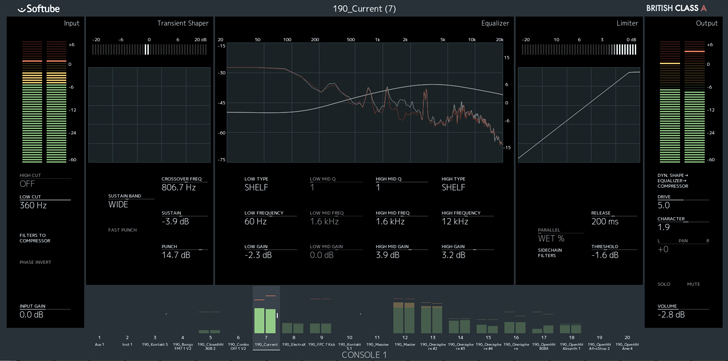 Softube British Class A For Console 1
Softube has the British Class A Channel for their popular Console 1 hardware plug-in interface/controller. British Class A emulates processor sections of seminal British consoles and outboard gear dating back to the '60s and '70s. Right now it is available for Console 1 only and not as a separate plug-in suite.
You get all the 'girth' and dense tone those Brit consoles due in part to the modeling of the analog characteristics of the input gain stage and transformer. The transformer modeling is "part and parcel"--ingrained into the sound of the British Class A Channel--it all works together as a system.
Enhanced EQ
The British Class A EQ section is the ultimate version of an English console EQ's sound. It works like channels from those days except there are two separate bands of overlapping mid-range equalization instead of just one. In addition, the high frequency shelving EQ has three frequency choices: 10kHz, 12kHz, and 16kHz and both mid-range sections have their own selectable Q.
By now the frequency choices are classic and, along with the low and high frequencies' EQ shelving/cut option and the onboard high and low filters, the EQ in the Console 1 channel is super-smooth and effective for equalizing stereo mixes or on any individual track(s). If you've used the various English hardware units from that era--Neve, Helios, Trident, Pye, EMI, ADR and others--you'll get the same range of effectiveness from smooth to super aggressive.
British Compressor/Limiter
The British Class A Compressor is modeled on the British diode bridge compressor/limiter, which first came out in 1968. But here there is more control over attack timing plus additional release time settings. A limiter section was part of the hardware compressor and Softube has coded the limiter as a separate processor you could insert in place of the compressor.
Gate
Although channel strips and most compressor/limiter outboard gear in those days didn't have gate/expanders built-in, Softube has included a "period correct" Class-A designed gate. It is not one of Softube's existing gate/expander plug-ins; it's brand new and, along with the compressor, comes with a side-chain input. Of course in Console 1, you may load the SSL SL 4000E, XL 9000K, the Valley People Dyna-mite or the resident Transient Shaper instead of the British Class-A Gate.
In Session
I opened an existing session I've been working on using my Console 1 and used the new channel for an 808 kick drum, bass synth, vocals and then across the stereo bus to warm up a Pop track I was to mix. These are all the usual suspects for this thick and dense processing style.
On the 808, I was able to greatly modify the sound and changed it to become the song's bass instrument. I found the compressor worked well and I liked the Wet/Dry feature for parallel processing--I could compress much deeper with higher ratios and then "blend" back some of the original signal. I also used "Filters to Compressor" mode on most sources--even synth basses.
I also tried the British Limiter with the Filters to Compressor and that prevented the limiter from punching holes in the mix with low frequency energy peaks from kick drums I wanted to keep loud.
With all sections of the British Class A Channel running, I have the full sound of those old, gray behemoth consoles! But all the other Softube Console 1 (adapted) plug-ins you already have installed can be easily substituted section by section as needed.
I especially liked the Dynamic Shape section--it is more useful to me than a gate for most individual track processing. I also liked the British Drive control that offers a wide range of effective overloading reminiscent of those old Class-A channel strips. You'll discover that at full CCW, the overload effect it rounder, warmer and thicker. If you crank CW, then the sound becomes nastier and more strident-sounding. Having a huge range between these extremes is an important tool for mixing.
British Class A For Console 1 is available at $199 MSRP until June 30, 2016. After this date, the plug-in will be priced at $249. It is available on Softube's own web store and via authorized Softube dealers around the world. Find out more at: www.softube.com/index.php?id=britishclassa.
---
Web Page design is copyright © 2016 by Barry Rudolph