StompLight Lightshow Pedal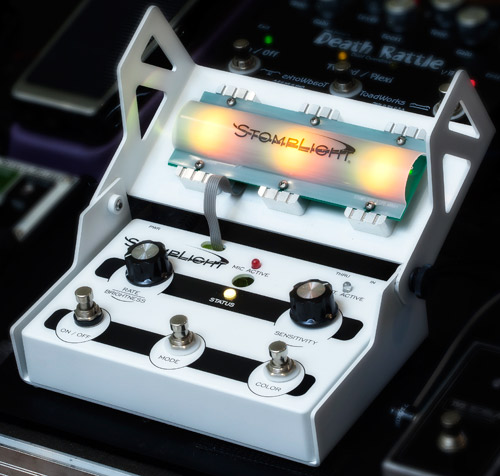 StompLight Lightshow Pedal

StompLight is a personal lightshow pedal. Stomplight "lives" down on the floor either on your guitar pedal board or on its own. It's clamshell cover opens up to reveal an array of powerful LEDs that project a bright and colorful lightshow back up at you! There are five, programmable lighting modes for creating unique effects all controllable with the unit's footswitches.

There is the Color Wheel Mode that freely-runs and cycles through all the color variations with adjustable speed and brightness. The Solid Color Mode works as a good backlighting effect flooding the stage with colors such as Ice Blue, Rasta Green, Purple People Eater and Demon Red.

Microphone Mode uses the built-in microphone and works like a color organ to dynamically respond to both the different volume levels and frequencies that your instrument produces. This mode is great for live bands, drummers, DJs and acoustic musicians looking for an instantly playful and responsive lighting effect.

Instrument/Mixer Mode allows you to plug in an electric guitar, bass, keyboard, microphone or mixer into the unit's 1/4-inch input and generate exciting and responsive lighting from these directly connected signal sources.

Another "turn on" is the Stroboscopic Mode--a classic strobe effect with adjustable speed and brightness. Great for dance parties, raves and haunted houses but not so great for people with photosensitive epilepsy--use with caution.

The StompLight Lightshow pedal comes housed in a steel enclosure and includes a 12-volt DC wall-wart power supply. It sells for $429 MSRP and there is much more information about it at: www.stomplight.com.








---
Web Page design is copyright © 2016 by Barry Rudolph