Ultimate Ears Pro Line Drive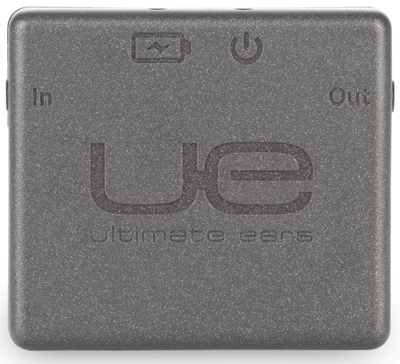 Ultimate Ears Pro Line Drive

UE's Pro Line Drive is a small, battery-powered stereo buffer that "conditions" the audio signal to drive your headphones, in-ear monitors (IEM) or ear buds. It is connected between the mixing console, or personal monitoring system, or smart phone, tablet or laptop and your in-ear monitors, ear buds or any brand of headphones. The UE Pro Line Drive runs on two internal, 3-volt Lithium batteries (included and also with two spares) and has an on-off switch and two LEDs to indicate power on/off and the battery's condition.

The UE Pro Line Drive is able to drive headphone impedances as low as two ohms to full level, without distortion from 10 Hz to 50kHz. The unit "mirrors" whatever volume level you are sending to its Input jack by providing the exactly same level at its output jack. The big difference is that now the full sound quality (mix, bass/treble, and life) of your music is maintained and accurately reproduced on any set of headphones or ear-buds you may have. There is no big level jump (up or down) and the in-ears' or headphones' impedance or brand/model doesn't matter. You'll get the best sound possible your headphones are capable of producing.

My first test was to connect the unit between my iPhone6 and a set of Audio-Technica ATH-M70X studio headphones. These phones, like a lot of professional headphones have an impedance in the range of 20 to 40-ohms; the M70X pair have a 35-ohm impedance and will handle up to 2-watts of audio. When these phones are directly connected to the iPhone, the amplifier in the phone (depending on the state of its battery charge) will start to run out of power at higher playback levels causing the sound to be "fuzzy" and inconsistent, particularly in the bass.

Because the UE Pro Line Drive has its own batteries, your headphones or IEMs will now have a consistent sound fidelity and better dynamic range no matter the input source.

I did try both my Ultimate Ears In-Ear Reference Monitors and my Ultimate Ears UE 900s Noise Isolating Earphones using the UE Pro Line Drive with great results--particularly hearable on the high-end In-Ear Reference Monitors.

The UE Pro Line Drive module is a small black square measuring 50 mm x 55 mm x 20 mm thick; it weighs 0.5kg (about 1 pound) and comes with an attachable belt clip for wearing along side your in-ear monitor receiver. A short 3.5mm stereo patch cable is provided to make that interconnection.

The UE Pro Line Drive is a must for consistent sound quality and level when connecting your in-ears or favorite headphones to unknown headphone or in-ear monitor systems. I especially like its "no brainer" hook up and foolproof operation. It sells for $149 MSRP and for more information, check: pro.ultimateears.com/line-drive.








---
Web Page design is copyright © 2016 by Barry Rudolph