Ultimate Ears Pro Reference Remastered In-Ears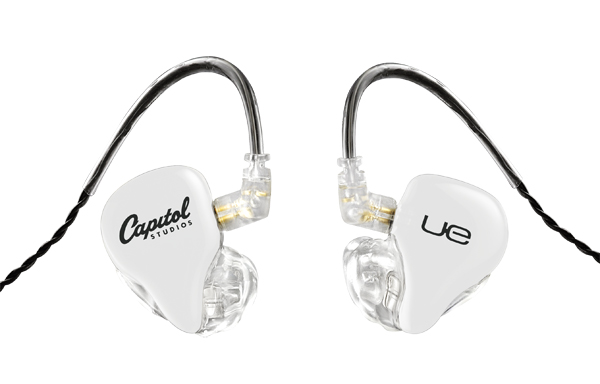 Ultimate Ears Pro Reference Remastered In-Ears

Ultimate Ears Pro's latest custom, in-ear monitors are the UE Pro Reference Remastered. These are UE's second-generation in-ear monitors developed in collaboration with the engineers at Capitol Studios in Hollywood, CA.

Designed to reproduce the best possible sound from any audio source from your smart phone to on-stage monitoring system to recording studios to hi-resolution audio downloads, the UE Pro Reference Remastered monitors use a set of three, True Tone Drivers to produce an extended frequency response out to 18kHz.

These are wearable reference monitors that are portable and enable precise comparison between what I mix in the studio and all other music sources I might encounter-be it on my iPhone or at other studios. Ultimate Ears' proprietary True Tone Drivers, coupled with an internal mechanical structure, makes sure all the music's harmonics, ambience and "air" captured in an excellently produced hi-res audio recording is heard.

To assist in the monitoring process as well my everyday use-even traveling on the subway or jogging on the street, the UE Pro Reference Remastered provide up to 26dB of external noise reduction due to their excellent custom fit. A comfortable and correct fit to your ears is essential to realize the maximum performance and the best listener experience.

To facilitate a perfect in-ear fit, UE now uses their UE 3D Ear Scanner--a laser-scanning device that measures each ear and generates 3D file data. Scanning stations and trained personnel are being deployed around the world--initially in music retailers in major metropolitan centers where you could also buy any of the UE in-ear monitors.

Unlike previously when you paid an audiologist to inject plastic molding 'goop' into your ears to make molds of your ear canals, all you have to do now is sit still for about ten-minutes (total) for a painless, 3D laser scan.

Best of all, it's free! Even if you decide not to purchase in-ears at the time of the scan, once the scan data is captured and stored, it will be available any time worldwide for the 3D printing of the earphones' shell good for any model in UE's in-ear line.

Using laser scanning makes ear geometry measurement more precise plus anyone (retailers, live sound company personnel, schools, government and business etc.) can be trained to take accurate ear impressions in UE's emerging 3D Ear Scanning training program.

How Do The Ultimate Ears Pro Reference Remastered Sound?

First of all I found the fit to be better and more comfortable than any of my in-ear monitors (I have four sets now from various companies). The new UERRs are voiced differently than my original Capitol models, the UE Reference Monitors. They have a little less mid range push and better sub octave reproduction. They seem slightly less bright making playing them louder less fatiguing for inspecting microscopic sonic details in the studio.

The UE Pro Reference Remastered are now my favorite pair of UE's in-ear monitors. They offer monitor portability with great sound isolation and the ability work with any audio interface by way of the included 1/8-inch TRS headphone jack and/or 1/4-inch adaptor. They come in a round metal carrying case and a cable with an in-line microphone for cell phone use are also available.

The Ultimate Ears Pro Reference Remastered in-ears sell for $999 MSRP and the scan is free. For dealers and where to get measured along with more information, check: ultmt.rs/uepro1.








---
Web Page design is copyright © 2016 by Barry Rudolph