Unity Audio Super Rock Monitors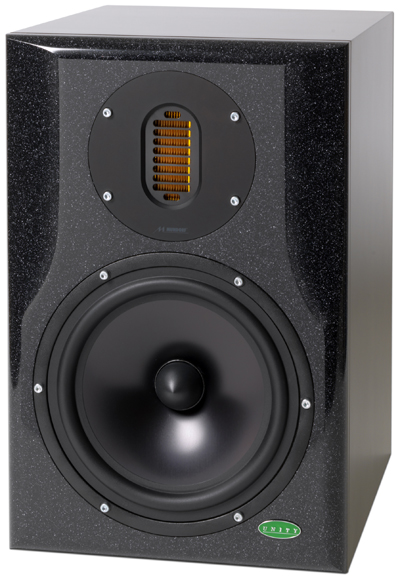 Unity Audio Super Rock Monitor

English manufacturer Unity Audio has the Super Rock, a near or mid-field monitor; it's one in their line of Rock range 2-way active loudspeakers. The Super Rock has a sealed cabinet design with no bass reflex port. Called an acoustic suspension design, the air inside the cabinet provides linear movement control of the bass cone for better transient response and tighter bass reproduction. The cabinet measures 16-inches (406-mm) high X 10.5-inches (266-mm) wide X 13.9-inches (353-mm) deep and is made from 18-mm birch plywood with its front (baffle) bonded to a 30-mm thick layer of Corian. Corian is a man made material similar to granite and often used for kitchen countertops because it is dense, solid and impervious to scratches. I liked the rounded corners of these cabinets and the overall build quality.

The Super Rock monitor builds on Unity's Rock MKII and starts with an 8-inch (220-mm) SEAS custom woofer that has a black-anodized aluminum cone and waveguide in the center. The same high temperature voice coil used in their Boulder monitor is also put to work in the Super Rock to provide low distortion and high power-handling capacity.

A German-made Mundorf Air Motion Transformer (AMT) tweeter is used for the high frequencies. The AMT is a ribbon tweeter that uses folded gold ribbons suspended in a magnetic field. To power the woofer and tweeter are two discreet amplifiers--a 75-watt low frequency amp and a 25-watt HF amplifier both designed by Tim de Paravincini of Esoteric Audio Research. The crossover frequency is 1,840Hz.

I put the Super Rock monitors up in my studio for a week of listening and comparing my mixes on them and several other monitors. The Super Rock monitors have no rear panel adjustments or controls apart from an overall gain control. Unity fixes the crossover frequency and the level of the tweeter relative to the woofer and, based on what I was hearing, I found no specific need to change that.

They have both +4dB (ref) XLR balanced and gold RCA (-10dBv) unbalanced input jacks and are powered by either 120 or 240VAC. I liked the small green LED on the rear panel to signify correct operation--no LED on the front panel is fine by me!

Sealed cabinets are a little less efficient compared to ported cabinets--they require more amplifier power for a given SPL. I do have to say I don't miss the inherent issues with ported cabs: Port "chuffing" noise, port resonances, and the issues when positioning a rear-ported cabinet near a room boundary.

I found the Super Rock monitors to sound "forward" with the slight lift in the mid-range as compared to other monitors. I could easily hear what needed fixing in the mix and that is (if nothing else) the primary purpose of any good monitor as a mixing tool. The Super Rock monitors work well for mid to lower listening volumes and that would be the way I would always use them if I owned a pair. For big and loud "show-off" playbacks, I'd probably go with my bigger system with sub-woofer but when the dust and hype settles, I'd go back to reality with these and get seriously back into the mix. Thumbs up for these!

Unity Audio's Super Rock monitors sell for $2,625 MSRP each and can be used as part of a 2.1 or 5.1 system when partnered with Unity's Avalanche sub-woofer. For much more, check: www.unityaudioproducts.co.uk/super-rock.php. The US distributer: stcgear.com/Unity_SuperRock.htm.








---
Web Page design is copyright © 2016 by Barry Rudolph