UVI Falcon Virtual Instrument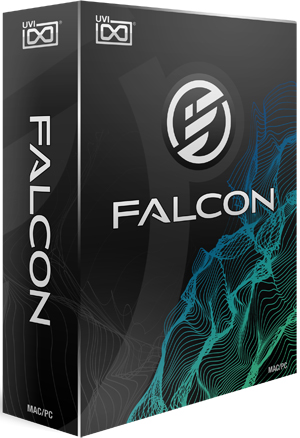 UVI Falcon Virtual Instrument
With big help from David Gamson
UVI Falcon is a hybrid instrument with both a powerful sampler that uses any of UVI's Soundware libraries plus a system of multiple synthesis engines. Using its 15 oscillators, Falcon creates and combines the sounds of a virtual analog synthesizer, 4-operator FM synthesis, sample slicing and manipulation, wavetable synthesis plus an extensive sample editor. There is also physical modeling with a plucked string oscillator, organ tone wheel oscillators and various noise generators to use when building analog drum sounds.
Within Falcon, all sound sources are combinable in any way imaginable along with an extensive modulation system with over 1,000 presets. There are over 80 high quality audio effects and the audio mixer has 17 available stereo outputs to your DAW's mixer. Sound designers will appreciate that the modulators are assignable anywhere in your process time line--either at the moment of individual sound creation (micro level) or overall to entire patches (macro).
Command and Control
To control and use Falcon, UVI has designed a single window user interface that is remarkably simple. We tested in both Cubase and Nuendo and found a huge time saver in it's ability to 'drag and drop' samples directly from the Arrange page into Falcon's key group editor.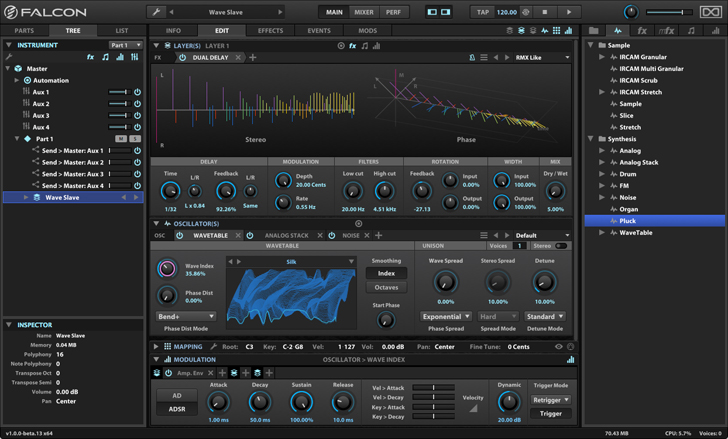 UVI Falcon Virtual Instrument Screen

Falcon "parts" are a hierarchy of one or more oscillators and are assigned in layers and key groups--all contained within a program. One or more parts (or layers) can be grouped as of a "multi" with each layer able to take on modulation sources, audio effects and/or MIDI event processors. Modulation and effects can be applied to a single sample in a large complicated patch or to the entire sound.

Building sounds from a mixture of samples and synthesis is fun--it's easy to get interesting results quickly. The user interface is thoughtful and streamlined; generally right-clicking parameters assigns modulation sources, internal sources, MIDI CC sources and host automation.

Sound Design In Songwriting

Dragging a thin-sounding kick drum into Falcon's oscillator editor, we added another key group with a drum oscillator that has a number of easily accessible presets that increased the 'heft and weight' of the original. With another key group and a sine wave oscillator, saturation, overall EQ and compression were all added easily. This process created a hyper-fat kick drum sound ready to be sequenced into the session.

Vocal Design

It was easy to drag a vocal sample into the IRCAM granular oscillator, slow it down and then programmed the Position knob to slowly scan over the sample in a one-bar loop. A new layer consisting of a wavetable synth patch used one of the Vox wavetable samples scanning through the wavetable with an LFO assigned to the "wave index."

Applying the SparkVerb reverb and other effects, we created an amazing morphing pad from a snippet of a vocal outtake that was in my session. Because Falcon can manipulate both samples and synthesis in one interface, it can create sounds that would be normally much more complicated and time-consuming to put together otherwise.

Sound Library

The included sound library is impressive. There are 36 instruments and 80+ drum machines recreated in the factory library. There is also the UVI Vintage Vault you can buy and add on. Most of those instruments are still owned here or have been used in the past. These instruments completely capture the personality of the classics beautifully. The Vintage Vault library has sample based recreations of the sounds from: Emu's Emulator 1 and 2, Fairllight, Synclavier, and a selection of the best Roland synths, string synths, Mini Moogs, Prophet VS, Waldorf synths and more.

First Go-To!

Falcon has quickly become our go-to instrument for sound creation when beginning a fresh start on a new song. It consolidates many processes in one giant instrument that are easy to access and use. We do wish it fully supported multi-core processors for better low latency performance while running complex patches. There is a learning curve but like all great instruments, it'll be worth it to master it. Highly recommended! UVI Falcon sells for $349 MSRP and for more information, check: www.uvi.net/falcon.html.








---
Web Page design is copyright © 2016 by Barry Rudolph