Vanguard Audio Labs V13 Tube Condenser Studio Microphone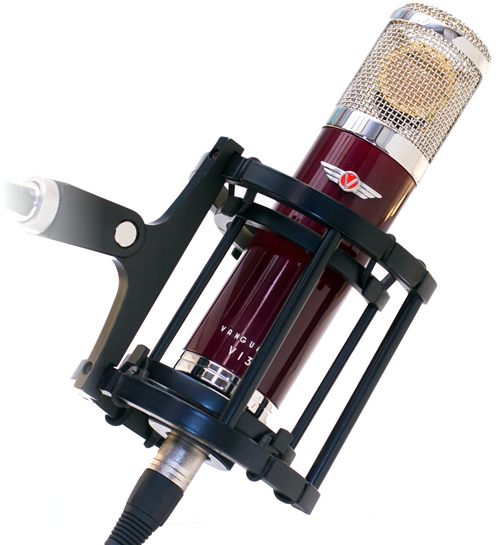 Vanguard Audio Labs V13 Tube Condenser Studio Microphone

The V13 is a tube condenser studio microphone that Vanguard Audio Labs has "precision-built and designed to a no-compromise standard." The multi-pattern V13 features a custom-voiced 34-mm, gold-sputtered 3-micron thick dual capsule that is edge-terminated.

The capsule is mounted within an open weave head basket without a smaller additional screen used inside--like most condenser mics. It makes sense that with less restriction of the air movement around the capsule and less internal reflections, the sound would be more open. Of course the tradeoff is a greater propensity for the V13 to "pop" from air blasts--plosives from close vocalists.

Other noteworthy design and production details are: premium-grade and globally sourced signal path components that undergo deep-cycle cryogenic treatment, a hand-selected vacuum tube, and output transformer.

There are switches on the back for -10dB attenuation and a low-frequency roll-off. I liked the VLSM shock mount; it uses aerospace-grade rubber suspension O-rings that work better and last longer than the elastic "pony tail" bands that come with other microphones.

The matching external power supply's front panel has an XLR output jack, a multi-pin XLR jack for the mic's cable and a polar pattern switch. There are nine different pattern positions from omnidirectional through cardioid through figure-of-eight that you can switch remotely while listening back in the control room if you have the power supply in the control room. Too bad the multi-pin cable is too short for this setup; you'll have to keep the power supply close to the mic's position out in the studio.

I tried out the V13 on vocals and acoustic guitar. For vocals, I used no pad, no roll-off and my Blast Filter (metal pop filter) when recording a very close in singer. I found it to sound very transparent and have a very low noise floor. Compared to one of my tube kit condenser mic (a ELA M251 clone), it didn't have the super low frequencies--I could hear the difference on headphones--but it was clearer and slightly more sensitive as evidenced by the small difference in gain settings on my RTZ 9762 Dual Combo Mic Pre-amp.

At another studio, I tried the V13 on acoustic guitar--a Takamine GD93CE-NAT where I placed the mic (in cardioid) at the 12th fret but aimed back at the bridge past the sound hole. I got a full, well-balanced sound that worked well without EQ or compression. But the sound was even better when I switched the V13 to omnidirectional and pulled it out about three feet away from the guitarist. I increased mic gain on the API 1608 Console and, as is the case with a good omnidirectional microphone, the pickup was well-balanced indicative of the player and the guitar itself.

So I had a great experience with the V13 and, at the current price, it is a great value and makes a good addition to your studio. The mic itself comes in a wood box and the entire kit--mic in box, power supply, shock mount and all cables fit into an attaché style case for easy traveling.

Each V13 undergoes final assembly and 100% testing and quality control in California and comes with a 5-year warranty. It sells for $699 MSRP and for much more, check out: vanguardaudiolabs.com.








---
Web Page design is copyright © 2016 by Barry Rudolph