Yamaha EMX Series Compact Powered Mixers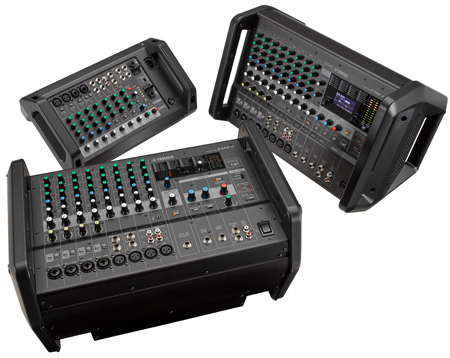 Yamaha EMX2, EMX5, EMX7 Powered Mixers

Yamaha has added three new models to the EMX series powered mixer line: the 10-input EMX2, and the EMX5 and EMX7 both with 12-inputs. These are complete mixing systems including power amplifiers and digital effects. Just add speaker(s) and microphones or line level sources and you're in business.

The EMX2, EMX5 and EMX7 all have super efficient Class-D power amps delivering 500, 630 and 710-watts respectively making these mixers obvious choices for mobile DJ performances in small to mid-sized venues or for houses of worship, nightclub or retail business applications. They come with Yamaha's SPX effects for hall, plate, room and echo reverbs and the EMX2 and the EMX5 include an updated 1-Knob Master EQ™ control for quickly setting overall tonality and frequency balance to suit any room. The top-of-the-line EMX7 features a flex-type graphic equalizer (Flex9GEQ) with up to nine bands of a 1/3-octave EQ with a ±15dB range.

An excellent feature of all these systems is an automatic feedback eliminator using Yamaha's digital technology that kills the squeals with push of a button.

The entry level (14.8 x 5.8 x 8.7-inches) 10-input EMX2 has four high quality microphone pre-amps and three stereo line inputs. Both the EMX5 and EMX7 will accommodate eight microphones or line-level devices, such as keyboards and CD players and portable MP3 players. All three models have phantom powering for condenser microphones and input 4 on the mixers is a high-impedance input for acoustic guitars with piezoelectric pickups or any direct instument.

The Yamaha EMX2 sells for $549; the EMX5 is $799 and the EMX7 sells for $999 MSRP. Check out: 4wrd.it/EMXSERIES.








---
Web Page design is copyright © 2016 by Barry Rudolph